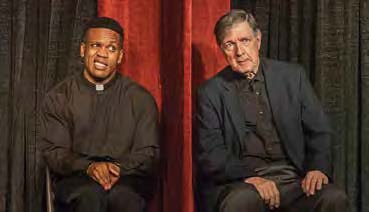 THE STARLITE PLAYERS have been in existence for not quite one year and they have already earned a loyal following and a solid reputation. Playwright, Jo Morello, established the group to provide a venue for local playwrights to showcase their creations. Tyler Yurckonis, owner of the Starlite Room, and Morello have provided a true community service. They offer the opportunity to enjoy a series of short comedies that are professionally produced, directed and acted.
February's program for Starlite Players was "Free Spirits"– four plays that were audience favorites from their first season which began in July, 2015.
The opener was "We're Having A Baby" by Irene L. Pynn. It was directed by Jamie Lee Butrum and also featured Butram along with Rik Robertson and Michael Kinsey. The twist in the plot provided the basis for some relevant social commentary.
Marvin Albert's "Thanks for the Memories" was one I had seen before. It was directed by Don Walker with Chuck Conlon, Jenny Aldrich and Brian Keys in the featured roles. It was funny in a touching way. Key's portrayal of a sympathetic cop was one of the high points.
"Confessions A Deux" by Stephen Cooper was directed by Mark Woodland. Don Walker and Brian Keys were featured in this riotous take on the confessional.
The final play, "Breaking Harvard" by Nicole Cunningham featured Michael Kinsey, Nancy Denton, and Tyler Yurckonis. Conventional behavior and the flaunting thereof was the topic of discussion in a hilarious manner.
It was an evening of solid laughs with extraordinary performances and production values. The ability of the cast and crew to create all of this in two or three weeks is truly amazing.
In addition to the dramatic portion, Yurckonis has offered a 15% discount on meals in the restaurant if you are attending the performance. On Saturday evenings, you can stay after the theatre for a song and dance party hosted by John Russo.
The new shows for Spotlite Players are scheduled for April 28-May 1, June 9-12, and July 14-17. The Starlite Room is located at 1001 Cocoanut Avenue in Sarasota. For tickets and information contact www.starliteplayers.com or call 941-587-8290. Meal reservations can be made by calling 941-702-5613. – Irene Herman