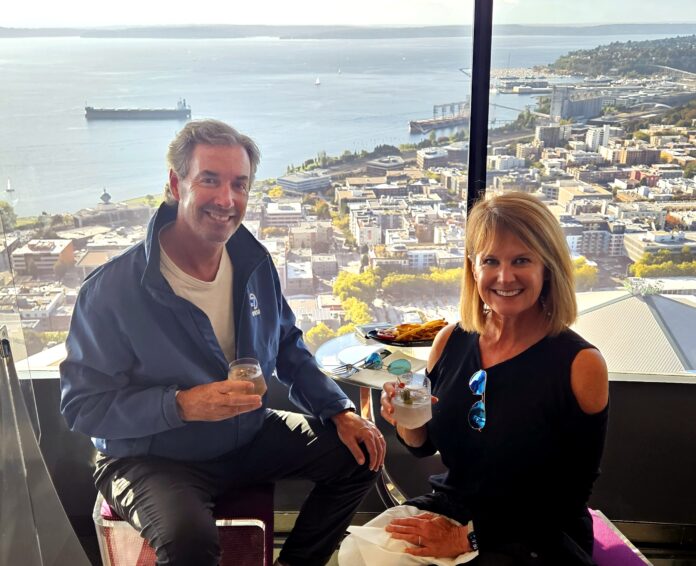 By Ray Collins
All I knew about Seattle was what I saw in the movies. Julia Roberts or Meg Ryan buying flowers at a farmers' market with upbeat music and sunshine. Or a wide shot of the Space Needle. All good stuff—but knowing I'd probably never have reason to see any of this in person, Erin and I made a point to go out to the Pacific Northwest.
(Turns out those flower scenes were Pike's Place Market, and the Space Needle has a huge line waiting to get up the ninth tallest structure in Seattle.)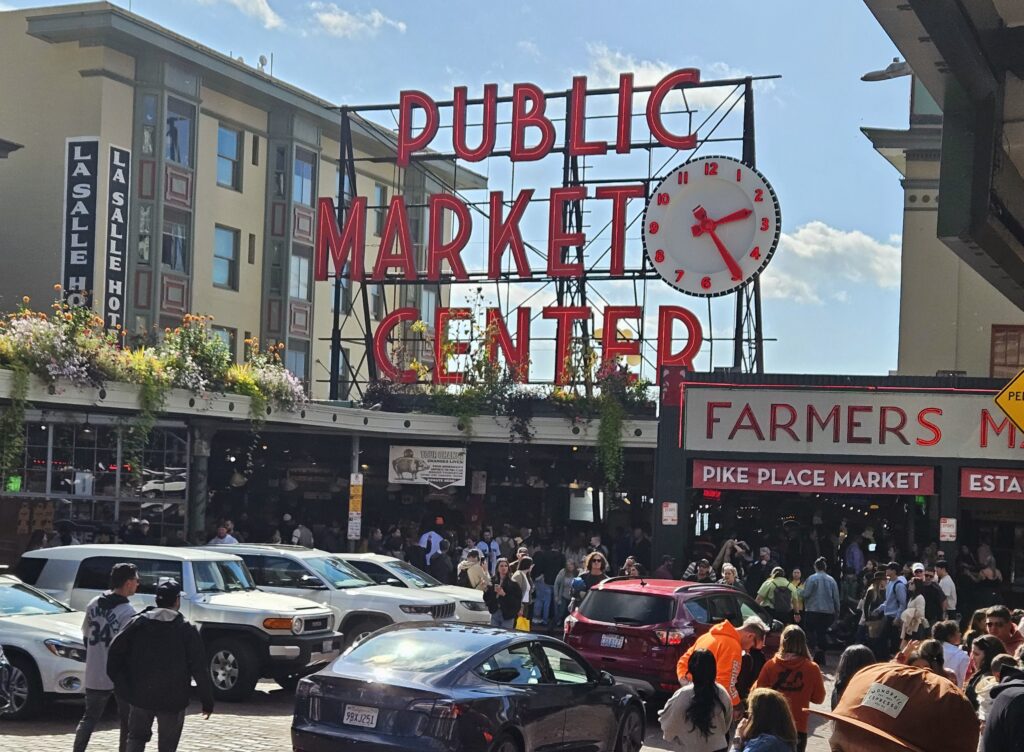 We spent our first few days across the border in Vancouver before taking a 4-hour Amtrak ride into Seattle. Vancouver and Seattle have some similarities: The populations are relatively similar in the metro areas, 2.6 and 4 million respectively. Both are situated around a lot of water. Both have ferry rides to neighboring locations. But some say Vancouver gets the nod because—well, I'll say it—Canadians are generally kinder and gentler.
**
We walked a mile from the train station to the Residence Inn near the downtown convention center. We happened to check in as the General Manager, Ben Osgood, was at the Front Desk and he gave us a warm welcome, even before he knew I was writing an article. The hotel was a perfect location to see all the sights, and once we unpacked our bags, that's what we set out to do:
First stop was that iconic waterfront market where the first-ever Starbucks is located. Somebody who saw me taking a picture of the long line out the door and down the street told me it's like that every day of the year! Across the street, we saw a group forming at a fish market. Turns out two workers will play catch with a fish from 30 feet apart every half hour. It was so silly we couldn't help but wait to watch and laugh.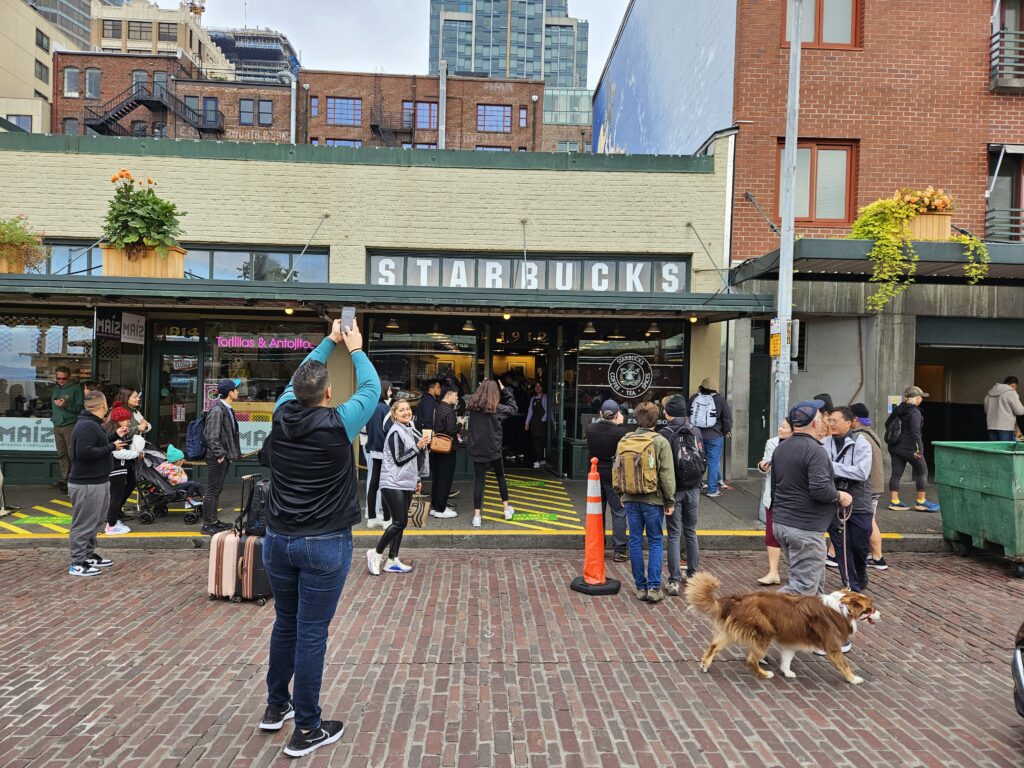 Seattle is pretty, and very hilly. In many ways it reminded me of not just Vancouver but also San Francisco. Great views similar climates and one article succinctly said, "both cities are post-industrial ports that have successfully transitioned to tech."
**
Our next stop was the Space Needle. Built in 1962 and a little more than 600 feet tall. You get plenty of time to read-up on oversized posters along the hallway while you wait in line. But the good news is—once you're up there, it's worth it: We sat down and had drinks and appetizers as the observation deck slowly rotated. They call it "The world's first and only revolving glass floor." It was a good chance to figure out what was what, and where was where.
We visited two other museums adjacent to the Space Needle during our visit:  The Chihuly Garden and Glass features the work of 82-year-old legendary glass artist Dale Chihuly of nearby Tacoma.  Fascinating what he can do by inflating molten glass into a bubble. (There is also a Chihuly collection near Sarasota in St. Petersburg.)
Next door to Chihuly is the Museum of Pop Culture. It included a hip-hop exhibit, a tribute to the Seattle-based band Nirvana and plenty of science fiction memorabilia as well. If this appeals to you, it's a perfect place to spend a rainy day in Seattle.
Another way to stay dry is to tour "Underground Seattle."  Back in 1889, a fire destroyed the waterfront area—but since that area was often soggy from high tide, the city re-built on top of itself to prevent the frequent flooding.  Years later there are tours of the underground city that remains.  For a time, it became shelter for illegal businesses and the homeless.  A century later, the only people down there are tour groups—led by energetic and able guides like Eowyn Morningstar who works for Beneath the Streets.  (Beneath-the-streets.com)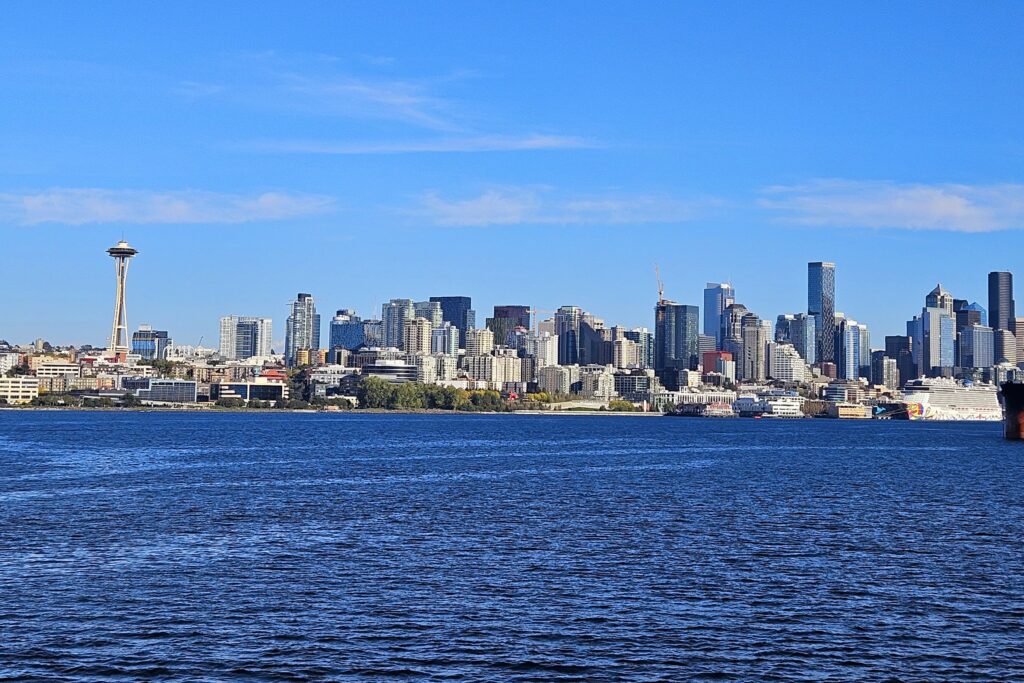 Something else we did that was fun was a half-hour ferry ride on Puget Sound to Bainbridge Island. I can recall seeing this area in an old Michael Douglas movie, where the lead character drives out of his garage and later onto a ferry that takes him across the water to Seattle. (That movie was called "Disclosure," 1994.) It was a fun place to see and worth the $8 round-trip ticket. It's perhaps best known as the birthplace of pickleball!
**
I was glad our hotel had a restaurant in the lobby. I always find it decadent to get back to the room after a long day of sightseeing, take a hot shower and then take an elevator to dinner. No car keys, no directions, etc. We sat at the bar and had nice meals while talking to other travelers—many of whom worked for Amazon, which has its headquarters in downtown Seattle. (Another night, we went next door to the Hyatt Regency for a more expensive experience, made even more so by the gratuity they baked into the bill without telling us. I inadvertently double-tipped them. Ouch.)
Thank you, Seattle. It was nice to see you in person. Very nice. Now I'll have more perspective next time I see you in the movies.
Ray Collins is a Sarasota-based travel writer who has been published more than 150 times reviewing destinations and resorts around the world. He's also an award-winning Realtor, elected official and former TV news anchor. For other articles, go to www. Raycollinsmedia.com/articles.