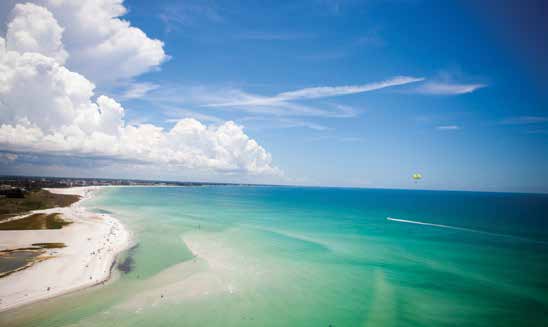 AS SOON AS YOU ARRIVE AT THE SUBLIME AND RELAXING SIESTA KEY BEACHSIDE VILLAS, your worldly cares just seem to slip away. The rainbow pastel colored bungalows beckon you to take your shoes off and just run to the beach. Or, mosey over to the hammocks and swing under the palm trees. It is a little slice of paradise on Siesta Key.
Located smack in the middle of the Village action, a car is really not even required. Your feet can take you anywhere you need to go within a few short blocks. Basically, you can roll out of your fabulously redone bungalow to nightlife, many restaurants and the world class beach, of course.
According to Michael Holderness, a top 1% realtor and managing director, "We saw a need for really nice rooms in the area and decided to completely refurbish the resort from head to toe." Some of the plans are to renovate the pool area, making it more conducive to languishing even in the summer months with a pool bar and a shallow walk-in feature. There will also be a beautifully designed kite type of overhang to shield those who don't completely worship the sun.
All exteriors have been redone with inviting tiki huts, Adirondack chairs in bright colors as well as much needed landscaping. All bungalows feature custom interiors, with all new flooring, granite countertops, appliances, and all new custom bedding and furniture.
A few steps down the road plans are in place to add a private beach "house" that features paddleboards, kayaks, towels and even showers for the guests. It is their own private space directly on the Gulf. All this for a marvelous time to get lost in the real world!
It feels more like a resort on a private Caribbean island than a beach town in the US. It is the perfect staycation getaway, or even escape the cold from north which many snowbirds flee. Many lovebirds rent the entire resort for weddings, which is a common occurrence. The bungalows are roomy, well equipped and perfect for families, couples and multi-generational gatherings.
The resort is quaint, luxurious and an unexpected treasure that is iconic of the Sarasota lifestyle. Steeped in traditional beach folklore but firmly embracing the present with every conceivable amenity, it nods to the old surf ideals of barefoot at the beach, but when it is time to shake off the sand, you will be enveloped in luxury accommodations. It doesn't get much better than that! – Susan Short