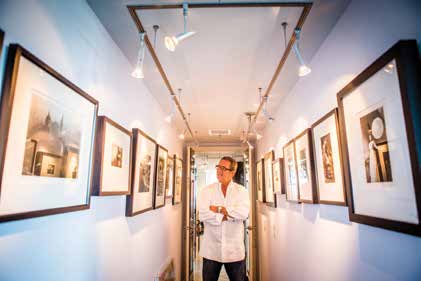 THE NAME RICHARD DORFMAN may sound familiar. His campaign signs were quite visible during the hotly contested race for County Commissioner last year. However, the man behind the signs, as I came to realize is truly in love with our fair city of Sarasota.
I had the honor of visiting his stunning condo, overlooking Sarasota Bay, water glistening as the sun set to a spectacular violet and then orange. The view was sublime, however the art collection was what really caught my eye. The exquisite interior was a feast for a modern art collector's sights – Andy Warhol, Bert Stern, Picasso, Damien Hirst, and many more adorned the walls from basically floor to ceiling.
"I have much more in storage," said Dorfman, "I am not sure what I have at this point" he went on to say. A tear almost came to my eye, as an art lover, it was hard to imagine not actually knowing what you owned and what treasures he might hiding somewhere.
Dorfman has been collecting art for over 40 years, acquiring his first Picasso with a loan from a friend. It just went on from there. No method to the madness, he just collects what he likes and it is a feeling of sorts. He has never been wrong.
Possibly the same feeling came over him when he was visiting Sarasota years ago, from London. The story has been said before – tired of the cold climate – he came to sunny Sarasota and decided not to leave. He purchased his condo at the Alinari preconstruction. The views are sensational and it is not hard to understand why he made his decision.
Richard Dorfman was the man behind many big television deals for high profile sporting events such as the soccer World Cup, Australian Open, Wimbledon and more. He was the Director of Broadcasting of the NBA and founder of NBA Entertainment. He relocated to London, where he represented 2 FIFA World Cups as well as Wimbledon for 20 years, Rugby World Cup for 12 years and the British and US Open Golf Championships as well as the England, Spain and German soccer teams. His office is a living history of famous people from George W. Bush to Andy Warhol. The major artists that grace his collection are Warhol, Picasso, Lichtenstein, Basquait, Wesselman and Damien Hirst.
The photography collection includes, Jean Loupe Sieff, Tom Milea, David Hamilton and Bert Stern who did the last Marilyn Monroe sitting series.
Mr. Dorfman was just recently elected to the Sarasota County Charter Review Board and has served on the Sarasota County Sports Commission.
During the recent election cycle – Dorfman, who consistently advocated for more open growth policies, said his strategist advised him to take personal shots at his opponents, but Dorfman wouldn't do that.
Dorfman said. "I was happy to stand on my own merits."
Richard Dorfman almost successfully overturned a long standing opponent for the coveted and heated seat. It did not go as planned and the rest is recent history. However, elected on the Sarasota County Charter Review Board, he still has his hand in local politics.
Before the interview came to a sunset ending, he asked me to step out onto the balcony that was a clear view of new growth in the downtown sector. Impressive, actually and also bittersweet – our small city will eventually succumb to major growth, if not now, then relatively soon. The revelation and the ideal is that it would be excellent if an elected official overseeing this process is one who genuinely loves the city – that would be a great placement.
The story continues. As well as the art collection. – Susan Short