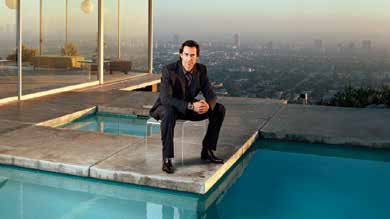 HANDSOME, DASHING AND COMMANDING, his presence permeates the room with calm energy. Formerly a high fashion model who traveled the world, his experiences are staggering. Recently starring in John Wick with Keanu Reeves–Daniel has also starred in Matrix–replaced Jean Claude Van Dam in BloodSport, Chuck Norris films, Parker–with Jason Statham and was in Hunger Games as a male tribute from District 9.
Daniel is a man of his word. He is also a true actor's actor. He performs all of his own stunts–regardless of the high level of difficulty. Action is his main genre and he has truly found his niche. He is featured in the TV show Mortal Kombat Conquest based on the video game and was Agent Johnson in Matrix Reloaded.
Originally from a small town close to Bern, Switzerland, fitness and physical activity is part of his DNA. Martial Arts have been a huge part of his life and athleticism since he began training in 1983 as a teen. He originally aspired to be a photographer before ascending into the world of show business. A very talented photographer in his own right–that is currently more of an avocation.
Not only has Daniel performed all of his own hair raising stunts–he also serves as a stunt fight coordinator for films. There is a tremendous amount of training that goes into this field of expertise and Daniel is on top of his game-performing at the highest level is what is required of him.
Recently he played Kirill, the main henchman of bad guys fighting against Keanu Reeves in John Wick. When I asked him how he enjoys playing the bad guy or the "heavy." He responded casually, "I absolutely love what I do–it is a blessing and such a fulfilling way to spend my life."
"I can't imagine living any other way" Bernhardt went on. He trains with the legendary stunt and action team at 87Eleven Action Design. The brainchild of Chad Stahelski and David Leitch, this is a renowned powerhouse facility that turns legendary action sequences into well executed and heart pounding reality. He has been close friends with this amazing team for over 20 years and trains for several hours each day at the state of the art facility when he is not on location filming. Just another day at this incredible office would be a dream come true for many or all aspiring action actors.
The future is as bright as the sun for Daniel Bernhardt. When chatting with him over a very healthy smoothie in Hollywood recently–not the obligatory cocktail–you begin to realize that he truly loves his life. He has been a top fashion model as well as a much sought after action star and fight coordinator.
His true passion and heart lies with his daughter. "I love being a Dad" said Daniel, smiling ear to ear with that captivating charm. Family is the center of his universe and he is quite dedicated to this in his life. When he is not filming, he spends as much time as he can with his daughter just being a regular Dad, his best role yet.
Recently, Daniel wrote and directed a riveting short film entitled, "Fetch." It has won critical acclaim in over 15 film festivals–Fetch won the Gold Pass Award at the Long Island Film Festival, Best Short Film at the Santa Monica Film Festival and the Best Short Film at the Wildwood Film Festival. Additionally, it has been screened in over 15 film festivals throughout the country. This action packed wild adventure about a hard luck detective is a collaboration with 87Eleven as Chad Stahelski and Dave Leitch–as they were Executive Producers. Dave Leitch was the star and Chad Stahelski was the mastermind of the action/fight sequences.
Daniel is also the ambassador for Carl F. Bucherer fine watches–the watch featured in the photo is actually his favorite, the Patravi TravelTec. Strong, handsome and flexibly durable, like Mr. Bernhardt.
Perhaps a very large directorial debut is in the cards for Daniel, who knows? For the immediate future Daniel is continually sought after as the actor of choice for the action film genre. Look closely at all of your favorite action films–there is a good chance that Daniel Bernhardt is throwing the punch or kick–or at least designing the fight sequence! – Susan Short with special thanks to Jonas Mohr