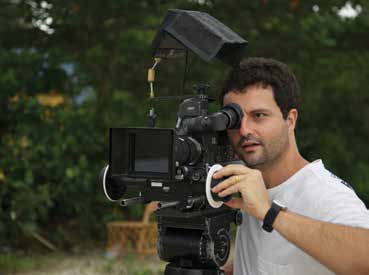 BEST KNOWN FOR THE BREAKOUT HIT, "Buddies" about a group of Down Syndrome individuals who broke out of the institution they had been living in to pursue their dreams. One wanted to get married, one wanted to see the ocean and one wanted to fly. Really a "road movie", this poignant comedy won the Best Film award in the largest film festival in Brazil, Gramando. It also won Best Film at the Mostra International Festival in São Paulo, Brazil.
Galvao grew up with an Uncle who had Down's Syndrome, he wrote the treatment on a plane, while travelling. It took over 7 years to raise the financing. The actors included over 60 people with Down's Syndrome on the film.
One of the main actors with Down syndrome, had a dream of wanting to meet Sean Penn. The idea went viral on Social Media and had over 1.5 million views. This was a big trip from Brazil. Galvao and the group set forth on the big adventure of a lifetime, only to find out that Galvao's visa had expired. Fortunately, his assistant was able to make the trip. They flew to LA, drove to Malibu, knocked on Sean Penn's door with tremendous anticipation and the rest is history! It was a fantastic experience and Sean Penn ended up giving him the certificate he got when he was nominated for the lead role in "I Am Sam", which was hung on the wall.
His recent project revolves around another interesting and thought-provoking topic. "Farewell" is about a 92 year old man who decides to spend his last night with his lover, a pretty woman close to 40 years old. The film is beautifully done, dramatic and sensitive.
Galvao received his green card for extraordinary ability in the art of filmmaking. He intends to shoot a new Western film in Brazil this summer. It revolves around Brazilian bandits, that live in the NW area of the country. The main character's parents left him to his own devices as a child. He was raised like an animal and then set out into the world of bandits.
Galvao is inspired by Danish directors, as well as the well-known Stanley Kubrick. He likes a wide variety of genres, comedy, drama, action and more.
He is developing a TV series about a female protagonist who is a gardener, in a South American country, who kills corrupt politicians and turns them into compost. People begin to realize what is going on and then she becomes a folk hero!
The future is bright for Marcello Galvao. His unique vision and immensely creative ideas should catapult him to the top very soon! – Susan Short