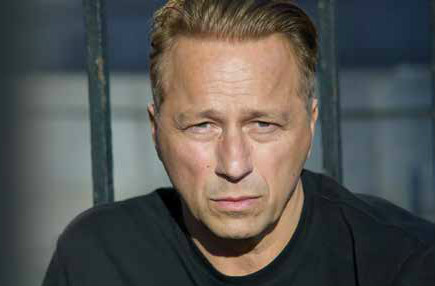 HIS FACE IS FAMILIAR: the bad guy, the detective, the Mafia "Don". Yes, that is the Jeff Wincott who has graced the big and small screen for 30 plus years. He has been in over 130 TV shows and 30 films as well as theater.
Just off a big role in the HBO miniseries, "Crime" with John Turturro, written and produced by Steve Zallian, of "Schindler's List", Jeff Wincott is very optimistic about the future. And he should be. He also has the "Lizzie Borden Chronicles" under his belt as he plays Marshal Halliard, one of the top investigators in the case.
"It has been a busy year" says Wincott, relaxed and enjoying his time in Sarasota. He was in our fair city to screen his first short film, which he directed, produced and starred as the lead. "Behind Bars" is a cautionary tale of a comeback fighter, who sadly is addicted to protein bars that are laced with illegal steroids. A gripping story that was shot in NYC, Jeff is a very believable character who struggles with this form of addiction.
"I prefer work that has a positive effect on society, something that can help others who may be suffering, even silently" says Jeff.
He has several projects in the works this year. The first is a sobering tale, a 4-part miniseries that is a collaboration with his wife, Charlotte Wincott.
The second project is a full length feature about those afflicted with bipolar disorder. He likes projects that have a strong message. These projects shed light on subjects that people rarely choose to discuss.
If all this makes your head spin, there is actually more on the horizon. Jeff is starring in a big film slated to be released the end of 2016. "Bolden!" features Ian McShane and Michael Rooker. Directed by Dan Pritzker, it is a fictional account of the first Cornet King of New Orleans, Buddy Bolden.
A skilled martial artist, Jeff's true passion is in this arena. He has played numerous detectives, serial killers, mobsters and more. He even played the head of the Mafia in "Sons of Anarchy", Jimmy Cucuzzia.
In the end, Jeff says that "I am just an actor, I love a great challenge" which translates to a wide variety of interesting roles. "I can play just about anything". An overweight Englishman, An Irish conductor, a detective, a criminal, a Mafia Don.
His favorite role to date is being Dad to his sons, one is studying acting in California. The youngest, 6, is his best friend and pal. "Right now I play Mr. Dad every day and love every minute of it".
Jeff is one to watch this year. His unique brand of talent brings all of his characters to life with a turn of the head or a glimmer in his eye. It is often not just the dialogue, it is the action and what is left unsaid. For more information about Jeff, log on to www.jeffwincott.com. – Susan Short