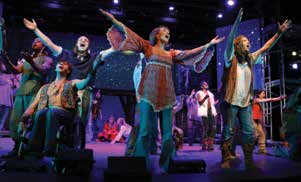 COMMUNITY THEATRE CAN NEVER AGAIN be regarded in quite the same way after seeing Venice Theatre's production of "Hair" this past November. Internationally acclaimed and award winning actor/director, Ben Vereen, directed this re-imagined version of this classic 60's rock musical. The result is a powerful statement delivered with an abundance of energy and enthusiasm. Having lived through that idealistic era of peace and love, I was delighted to hear the familiar songs so expertly performed by "the Tribe."
Vereen has molded "the Tribe" into a cohesive unit that thinks and acts as one. Along with the outstanding ensemble, several individual performers have the opportunity to shine in the spotlight. Charles Logan is a dynamic Berger – the central character around whom much of the action revolves. Aaron Vereen is a powerhouse on bongo drums and Vera Samuels gives a moving rendition of "Easy to be Hard." Patrick Mounce delivers a sensitive portrayal of Claude, the character who is drafted into the army.
The brief nudity scene which was one of this musical's original claims to fame is still there in this production and handled tastefully. The problems of war and social injustice are highlighted by the use of projections that are quite contemporary. These current events serve to emphasize the truth and irony of the lyric "what a piece of work is man." Ben Vereen agreed to direct this production because he believed that love is alive and well and living in Venice.
With young people such as the ones in "Hair" there is hope that "love" can prosper elsewhere as well. – Irene Herman