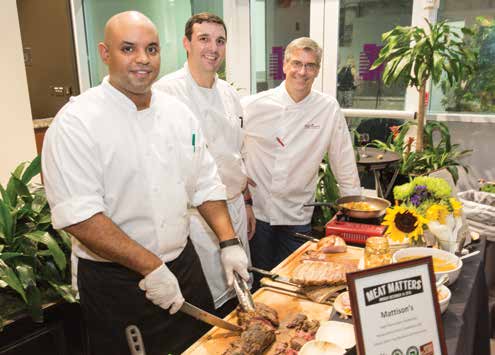 AWARD-WINNING SARASOTA CHEF PAUL MATTISON has announced new menu changes for 2016. His two popular restaurants, Mattison's Forty-One on South Tamiami Trial and Mattison's City Grille, will offer guests the opportunity to enjoy healthier menu items that will have an impact on not just the palette. He wants customers to know where his culinary creations come from matters.
There is a significant movement in the culinary world that Chef Mattison is not only embracing but leading the way in the Sarasota community. "We want to not only help the environment but work with people that display a compassion for animals." He prefers to work with companies where animals are raised on sustainable farms and ranches, are antibiotic free, never been subjected to hormones and fed only 100% vegetarian feeds. "Some of our new menu selections will not be found at any other restaurants in the area."
"At Mattison's we are fully committed to using all natural and sustainable ingredients, in all of our menu creations. We source local produce and seafood as well as importing the freshest products from around the world."
In fact, the public was invited to join Chef Mattison and enjoy the first "Meat Matters" benefit dinner presented by the new Chefs Collaborative on Dec. 14 at Made Restaurant. It was fun and educational.
This national nonprofit has a mission to inspire, educate, and celebrate chefs and food professionals in order to build FINE DINING LOVE PROSPERS IN a better food system. The dinner was a " HAIR" collaborate effort featuring top Sarasota chefs representing their restaurants: Indigenous, Made, Louies, The Cottage, Drunken Poet Café, Mattison's and Michael's On East. Chefs prepared small plates of organic chicken, pork, beef and lamb. A portion of the proceeds benefited Chefs Collaborative scholarship program.
Mattison's has also announced they are working with Turtle Beach Natural Foodservice. This Tampa Bay based food distributor offers the finest chicken, bison, beef, pork, game meats that are all-natural or organic, and certified humanely raised.
Chef Paul Mattison was a featured Chef during the event and prepared Bison Tenderloin and Pork Tomahawk Carving Station with Shallot Demi, Fig Mustard and Bacon Jam. Paul Willis, founder of Nimen Ranch, was a special guest at the dinner, helping to educate the guests about his products. Chef Paul has been the owner of Mattison's restaurants and catering for over 25 years. He recently returned from participating in the prestigious American Harvest Workshop hosted by Cakebread Cellars and was chosen as one of five Chefs in the nation to attend this annual event in Napa.
New menu items like Tomahawk Pork Chop and Angus Ribeye from Niman Ranch and Chicken Breast and Duck Confit Flatbread from Joyce Farms are new healthy items. Starters like Asparagus poached egg, shaved Parmean, extra virgin olive oil with Black Opal Platinum caviar add to the mix. – Cindy Cockburn