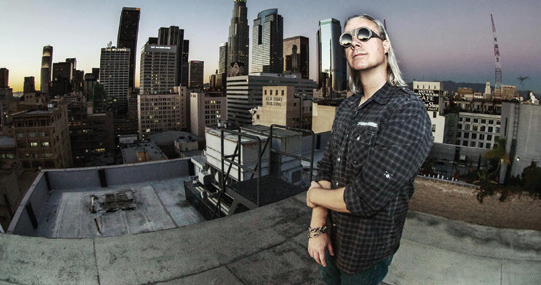 SOUNDTRACK, EDM, BIG BEAT, JAZZ, HIP HOP, CHILL, ROCK, METAL AND MORE…Big Swede has an amazing downtown style. He is known for just about every music genre. We caught up with this brilliant musician and producer at his uber cool downtown L.A. penthouse inspiring, overlooking the burgeoning scene of arts, culture, history and street cred. He has remarked that his stimulus comes from his surroundings, and this certainly is teeming with vibrancy and life. More of a city vibe with incredible weather. It is a current mix of all the best the area has to offer.
How does one describe Big Swede and his amazing career? This is not an easy task, discovered early as a child prodigy of sorts as he was recruited in his hometown of Gothenburg, Sweden to play in a touring rock band as a teen.
Always searching for projects, Big Swede has worked on more than a lifetime of television music. NCIS is one of his greater known works. He runs a recording studio and is as he says, "All over the place musically". In addition to this venture, he has a recording label as well as a music production company. Casual and comfortable both describe his style of environment preferred, where creativity can flow.
We caught up with Big Swede and chilled on his rooftop in downtown L.A. and unfolded some of his story.
FAMILY BEAUTIFUL What are the major works that you are focusing on currently?
BIG SWEDE I am finishing my upcoming album "Big Swede–BS In A Downtown Lounge". All the tracks on that album are mainly inspired by downtown Los Angeles. The vibe is chill out, downtempo electronica with jazz, Latin and urban influences. Release will be sometime in the Spring. I already released a few singles from it. After that I have a possible EP coming with heavier music, I would say a mixture of Prodigy, Marilyn Manson, Nine Inch Nails. Also, whatever specific requests that come in for any kind of media TV, Film, Advertising etc. There is another rock single as well in the pipeline, including a crazier electronic remix of it.
FB Can you explain DTLA and Downtown Art Dreams?
BS The track/video features 2 well known artist/painters from my street, Gronk (LACMA, Smithsonian American Art Museum) and Tanner Goldbeck (Powell Peralta, Icon Motosports). They inspire me each morning when I meet them at our local coffee place. I asked them to talk a little bit about their art, the DTLA (downtown Los Angeles) influence on their art and what art is to them. Then I made a song out of it and filmed a video in the area, trying to capture the great creative energy of DTLA's Historic Area. It also features one of the finest harmonica players in the world, Jimmy Z (Eurythmics, Rod Stewart, Etta James, NWA). The song is part of my upcoming "BS In A Downtown Lounge" album.
FB What gives you the most gratification in what you do?
BS To be able to create music from scratch into a finished product and to continue to be able to explore that. It is always as exciting to see where a new idea takes me. I never know what the result will be and a lot of times it surprises me. It feels like I barely got started.
FB How have you evolved as an artist and where do you see it in the future?
BS When I moved to Los Angeles in 1995 I never knew that I would be making my own music for all these TV shows etc. I was a drummer when I moved here and I was all about the drums and everything around them.
In 2002 when I wrote and recorded my first song by myself it was a major turning point for me. I became obsessed with writing and recording my own music. Over the years I have explored different styles of music and always try to do it all in my own way and kind of put a BS stamp on it. I follow my instincts when it comes to being creative. I like to have more interesting guests on songs coming up. It usually happens by coincidence. At some point, it would be fun to possibly go out and play live, but I don't know when and if it will happen. I love the recording process.
FB I know I asked you this but there was a bit of background noise in the recording. What inspires you now and how do you keep it fresh?
BS I keep it fresh by working in different genres and I go between them. I might add a new instrument or sound that I haven't used before. Beyond the sky is the limit! I think inspiration is everywhere, the people I meet, the places I go and other musicians and other creative non musicians. His work includes Mercedes, "Super Service" SLS AMG Roadster commercial, DISH Network, "Ugly Bill" commercial, NCIS, The Mentalist ALPHAS, NCIS Los Angeles, CSI Miami, Lie to Me, 90210, Christmas Cupid, MTV Video Music Awards Pre-Show, VMA's revealed, Real World: San Diego, Keeping Up With The Kardashians, Kourtney and Kim Take Miami, Kourtney and Khloe take the Hamptons, Basketball Wives LA, Ladylike, True Life, and much more. Long time collaborator with Reeves Gabrels (The Cure, David Bowie), among others.
"Downtown Los Angeles is still my main inspiration" says Big Swede, "I have done over 1000 tracks at my studio, about 800 myself and 200 for other people". "My new record 'Big Swede–BS In a Downtown Lounge' will be out early this Spring with a bunch of incredible guests". Looking forward to what Big Swede has on his agenda for 2017!
–Susan Short