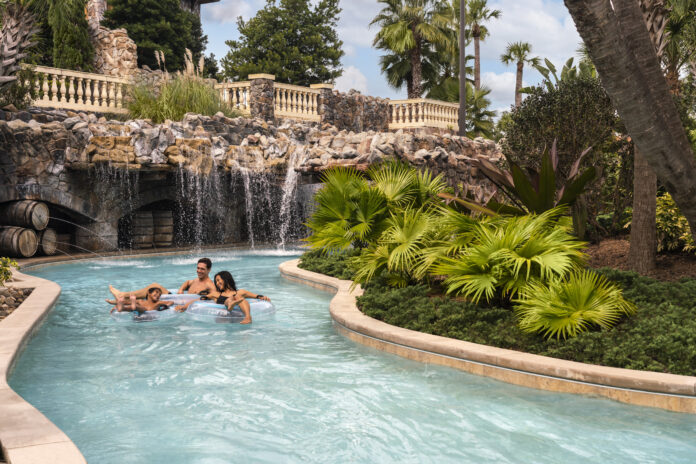 Situated in an exclusive enclave within the boundaries of Walt Disney World, this 26-acre lakeside gem of a 5-star property is an oasis from the continuous excitement of theme park heaven and the world in general. It is actually the first property in the Orlando region to have been awarded the AAA five-diamond status.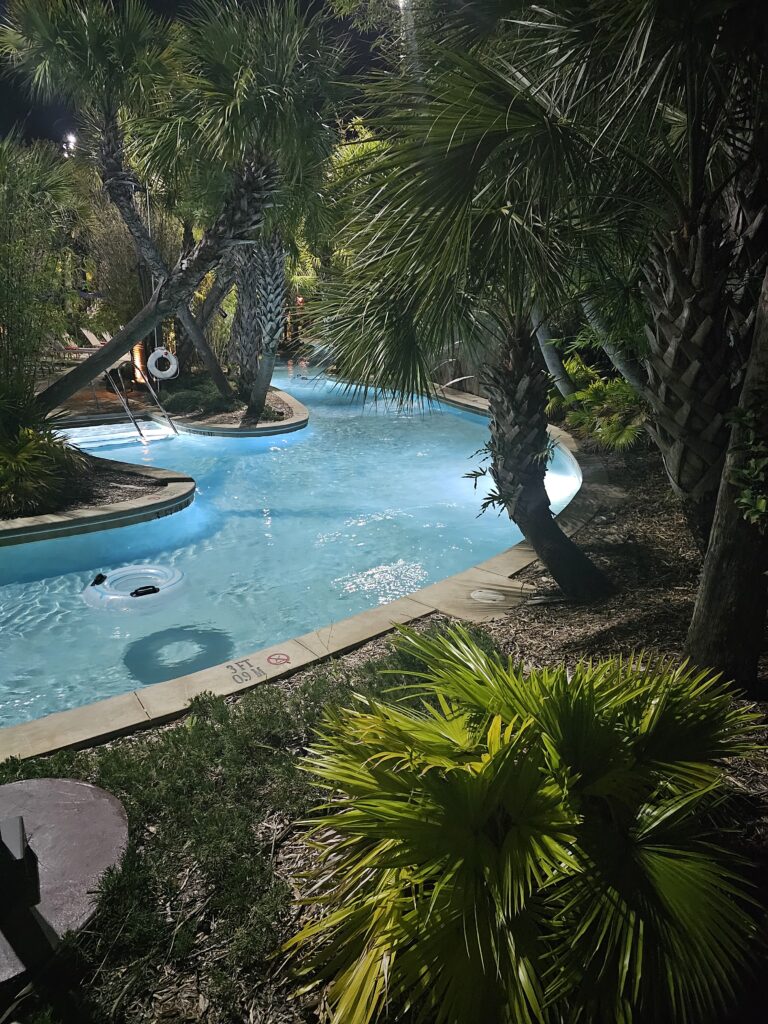 As you arrive at the property, you notice every area's luxurious and intimate personal service – but not stuffy.
Fall is truly a sensational time to visit the area. The weather was amazing- perfect for any activity. And, there were plenty of activities to fill many days! For families with kids, this is a heavenly experience. There is a 5-acre water park which is a destination on its own. Splash zones, water slides, fountains, and pools for every member of the family.
The adult-only pool beckoned, and it was a sea of tranquility. A no phone (speaking on one) zone which remarkably was an antidote to civilization and stress. I noticed that almost everyone was relaxing- a sight rarely seen these days – and people were reading books! The only interruption in the glorious silence was the attentive staff asking what the drink or lunch order might be.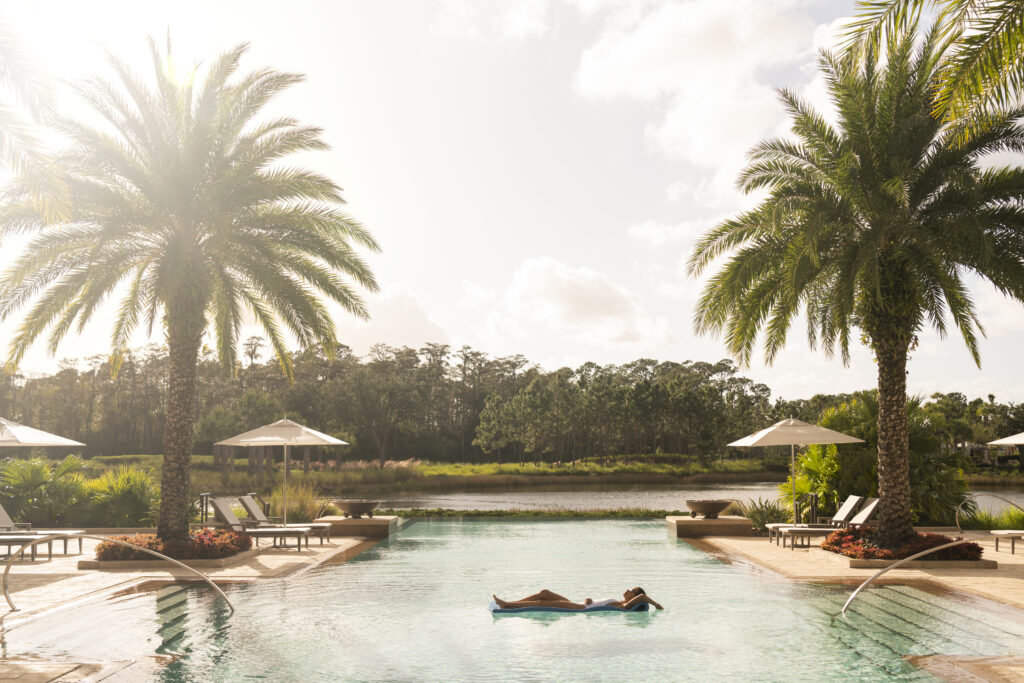 We hung our resort hats in the newly renovated Lakeside suites. The suites offer beautiful views of the lakes and woodlands, plus terrace views of the nightly Walt Disney World Resort fireworks. The Park View Deluxe suites, which feature a spacious living area, three-quarter bath, separate bedroom, full five-piece bathroom with deep-soaking bathtub, and expansive terrace, have been fully refreshed in a modern design with hues of taupe, grey, soft blush, and mossy green. The residential-style suites offer guests a serene sanctuary with its neutral color palette and contemporary textures and patterns throughout.
Entering the Park View Deluxe Suite, guests walk onto a beautiful light herringbone tile entryway floor and are welcomed to an entry vestibule that is functionally designed complete with charging ports, accentuated by a decorative wall feature. The white wall relief, inset in a walnut wood accent panel, has a floral motif with hidden elements of whimsy. Upon a closer look, guests will discover a castle, a honey pot, and a star incorporated into the design; playful elements that pay homage to the Resort's location at Walt Disney World Resort.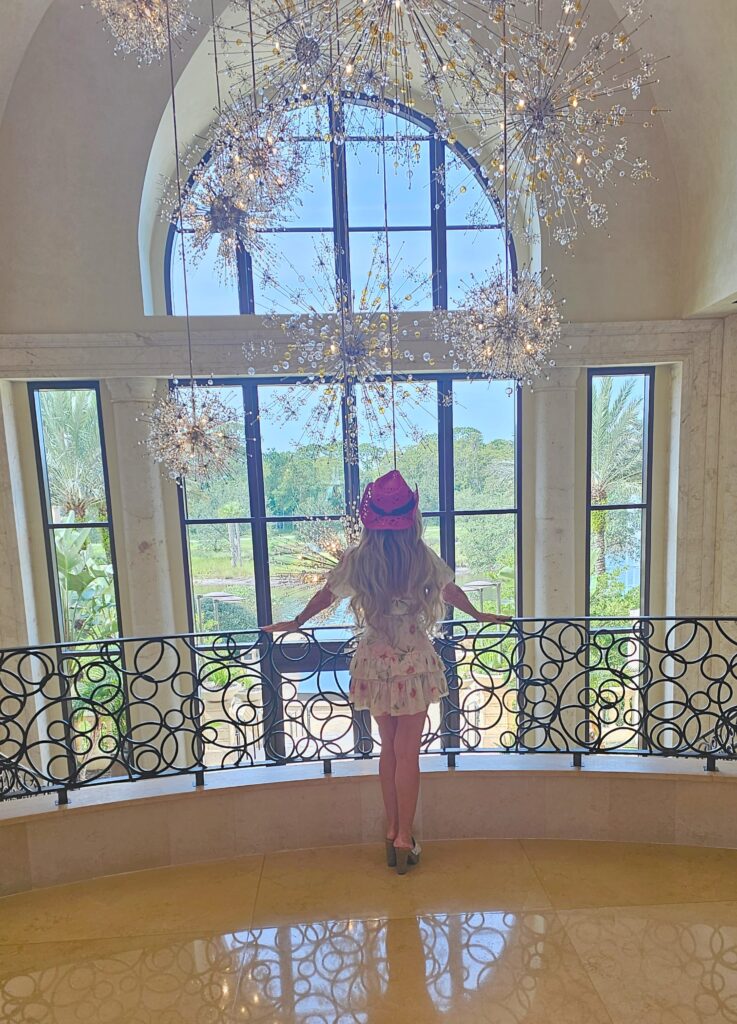 We were lucky enough to experience the re-opening of Capa, the Michelin-starred fine dining featuring Chef, Malyna Si. Our server Warren was an incredible and attentive evening host and pointed out the most sensational features of the menu.
We began the intoxicating meal with Atun Crudo A La Plancha – Seared tuna, Mango Escabeche, Scallion jus, Truffle avocado puree, and shaved Black truffle. Sensational. Then on to a Tapas sampler- Medjool Dates, Almond, Bacon, and Tamarind Crème Fraiche. The Croquetas of Cinco Jotas Jamon Croquettes, Bechamel Smoked Fig mustard, and Beer brined pork belly, Apple butter pistachio jazz. All of this was tremendous and the flavor profile was extremely delicious.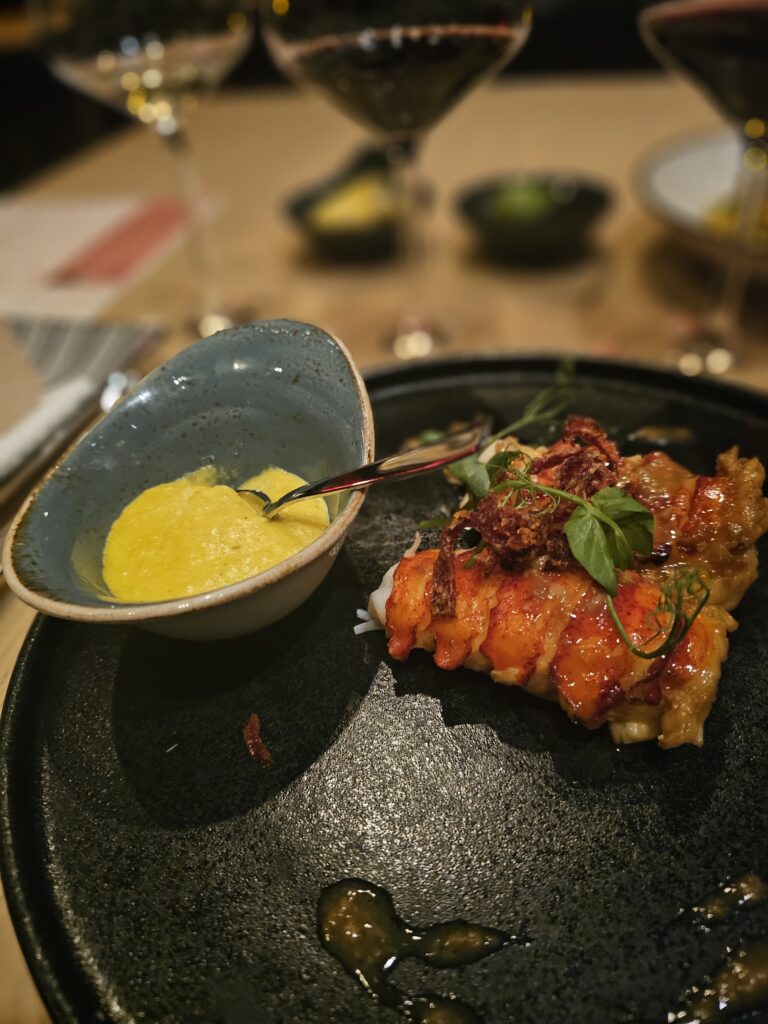 Then on to the star of the show- the Miyazaki Wagyu Beef. This is purebred Japanese Waygu from the Miyachiku co-op. The fat in the Waygu beef has a lower melting point than any other beef. The sensation of the meat melting in your mouth is what makes the Waygu beef such an extraordinary experience.
If that was not enough, we had the pleasure of trying some of the dessert treats- first off was the Churros de Madrid with chocolate and Dulcey. Then the Pastel De Almendras Y Aceite De Oliva- Olive oil cake, mixed berries sorbet, Lemon cream and Pistachio Mousse. Then the Cremoso De Avellana Con Café – Coffee meringue, Cardamon, Lemon Sherbert and Hazelnut.
After all of this 5-star dining- we had to make it to the well-equipped gym for hours! There is just about every piece of equipment that you might dream of, including a well-stocked personal training area that does the fitness trick.
Sunday brunch is an easy, breezy lakeside affair at Plancha at the golf clubhouse dining facility. The resort features a Tom Fazio, 18-hole golf and sports club that is meticulously maintained.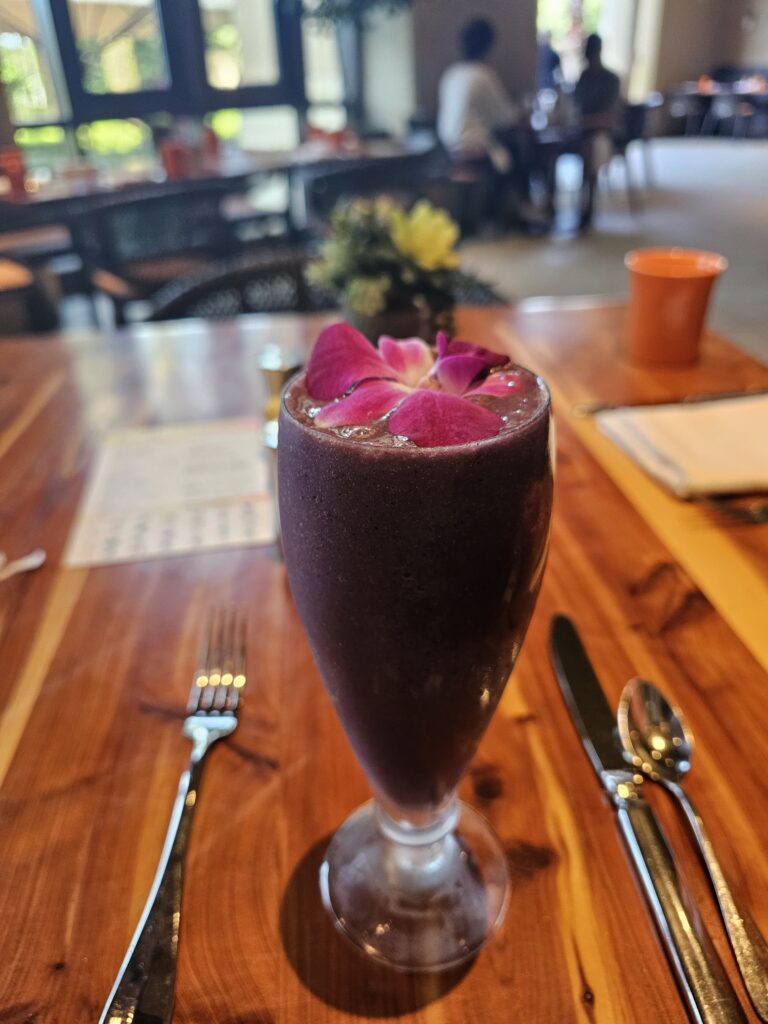 After brunch the Spa seemed like the only way to go. The spa has every kind of therapy imaginable as well as exclusive therapies performed by a talented team of spa professionals. The relaxation area as well as the solarium is also a fabulous way to relax and enjoy the time.
The Spa is welcoming special guests such as Jeannette von Johnsbach, founder of The Andreas Method Energy Healing, for unique hands-on energy and natural spirituality sessions, enabling guests to move forward with ease, joy and vitality. The former resident Energy Healing Expert at Four Seasons Hotel Los Angeles for more than a decade, von Johnsbach brings an extensive background in the exploration of naturopathic and Eastern therapies in Europe, the Americas, and India. She has been recognized as the Premier Energy Healer by Forbes and Angeleno Magazine and brings more than 30 years experience in energy healing.
Guests can experience an Individual Energy Healing session, USD 230 for 50 minutes or USD 330 for 80 minutes. This treatment nurtures, detoxifies, balances, and removes energetic blockages, stimulating self-healing. In addition, Couples Energy Healing will also be offered, USD 430, for an 80-minute session that promotes guiding partners toward a deeper connection, strengthening romantic ties, and invigorating a partnership and bond.
November 2-5, 2023- The Traveling Hypnotist
Over November 2-5, The Spa will welcome Nicole Hernandez, "The Traveling Hypnotist," a board-certified clinical hypnotist based in New York City. She is sought after by high-achieving professionals who want to redirect their lives and upgrade their experience of the world by quickly identifying and addressing unconscious negative beliefs and patterns. Notably, she is among the esteemed wellness experts for The Collective at Four Seasons Hotel New York Downtown. Hernandez, who has been featured in The New York Times, The Wall Street Journal, and Forbes, is the creator of the TTH Method, an accelerated inner-change process that incorporates modern hypnosis, mindfulness, meaningful manifestation, and somatic tools.
No trip to the resort could be complete without a great hitting lesson at the tennis facility with the resident pro-Alain Labreque. He is top-notch and a great tennis partner or opponent regardless of your level of play. He is an excellent teaching pro. Such a great way to release tension and work off some of the 5-star cuisine at the resort! A little birdie mentioned there will be Pickleball courts arriving in the near future!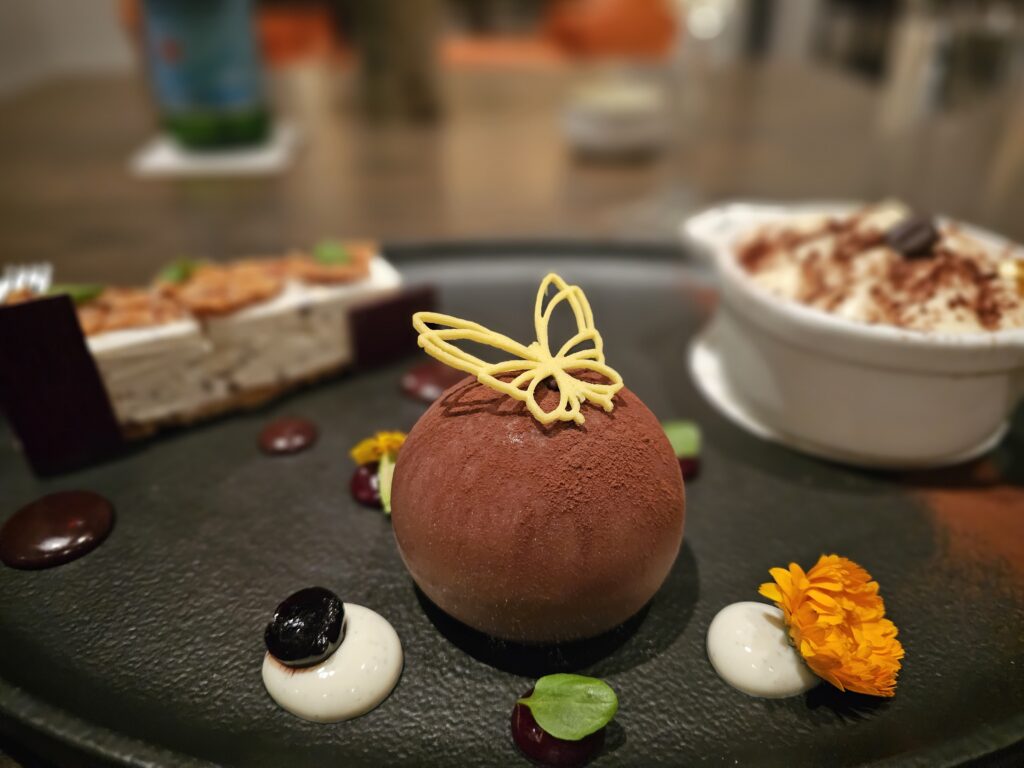 The days and evenings spent at the resort were nothing less than magical. A well-deserved respite from the frantic pace of the world we live in that is the perfect blend of calm very close to the excitement and in exquisite taste.
Of note: Upcoming ideas for the Holidays!
-Ravello has a "Pasta & Play" offering, where after dining with their family, kids are provided with supervised play time as parents can enjoy some quiet time and savor a glass of wine and dessert, go on a post-dinner walk, or simply enjoy an extra hour of couples' time (offered on select nights)
Rediscover Ravello: Authentic Italian Cuisine at Four Seasons Resort Orlando

-Thanksgiving options are plentiful!
Celebrate Thanksgiving at Four Seasons Resort Orlando at Walt Disney World Resort
We are also planning for the Most Magical Time of the Year, the holiday season! Give the Ultimate Gift this Holiday Season: An Unforgettable Winter Getaway at Four Seasons Resort Orlando at Walt Disney World Resort
Top Gift Ideas: 'Tis the Season to Be Shopping: Top 10 Gifts Ideas from Four Seasons Resort Orlando
Take the Brightline! Now offered directly from several S. FL stops to Orlando – more info here: