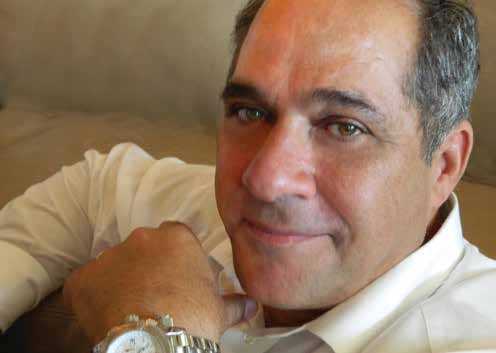 FAMILY BEAUTIFUL: What can the audience expect from this year's Film Festival?
MARK FAMIGLIO: This year's fest has a brilliant grouping of great features and (as our community has come to expect), a fantastic array of documentaries. And of course great parties, workshops etc. Our education division has amplified its efforts to include more young folk throughout several counties…working with public and private schools…speaking to social issues and giving young people the opportunity to appreciate the power of film.
FB: We understand screen icon Sophia Loren will be here in Sarasota!
MF: Sophia is here as part of the VanWezel Performing Arts Hall and its partnership with the Sarasota Film Festival. She will be receiving the festival's FILM LEGEND AWARD. And a true legend she is. Growing up in the slums of Pozzuoli during the second World War without any support from her father, she experienced much sadness in her childhood. Her life took an unexpected turn for the best when, at age 14, she entered into a beauty contest where she placed as one of the finalists. It was there that Sophia caught the attention of film producer Carlo Ponti, some 22 years her senior, whom she eventually married in 1966 once he finally obtained a divorce from his first wife. Perhaps he was the only father figure she ever had. Under his guidance, Sophia was put under contract and appeared as an extra in ten films beginning in 1950, before working her way up to supporting roles. In these early films, she was credited as "Sofia Lazzaro" because people joked her beauty could raise Lazzarus from the dead. By her late teens, Sophia was playing lead roles in many Italian features such as La favorita (1953) and Aida (1953). In 1957, she embarked on a successful acting career in the United States, starring in Boy on a Dolphin (1957), Legend of the Lost (1957), and The Pride and the Passion (1957) that year. She had a short-lived but much-publicized fling with co-star Cary Grant, who was 31 years her senior. She was only 22 while he was 53, and she rejected a marriage proposal from him. They were paired together a second time in the family friendly romantic comedy Houseboat (1958). While under contract to Paramount Pictures, Sophia starred in Desire Under the Elms (1958), The Key (1958), The Black Orchid (1958), It Started in Naples (1960), Heller in Pink Tights (1960), A Breath of Scandal (1960), and The Millionairess (1960) before returning to Italy to star in Two Women (1960). The film was a period piece about a woman living in war-torn Italy who is raped while trying to protect her young daughter. Originally cast in the role of the daughter, Sophia fought against type and was re-cast as the mother, proving herself as a genuine actress and displaying her lack of vanity. This performance received international acclaim and was honored with an Academy Award for Best Actress. In addition to her great work in film her deceased husband was a great film icon and one of her son's is a significant independent film maker.
FB: How has the Film Industry changed and how does this affect the Festival?
MF: The film industry has changed dramatically and is on course to be relatively unrecognizable within the next 10 years. Content for episodic TV has become part of screenwriting and our festival has been partnering with the Screenwriters Colony to bring workshops and provide support to local and international screenwriters…both in the movie and episodic series realms. And then of course the Virtual Reality filmmaker will become increasingly important…as will gaming.
FB: What are some of the challenges?
MF: Yes, the problem has been how to monetize… Amazon, BuzzFeed, etc. are some of the more recent entries into film and webisodes…
FB: What are some of the themes for this year's festival?
MF: Mental Health and Politics…I am thinking of renaming our largest party…CINEMA POLITICALE.
FB: Who will be be able to rub elbows with?
MF: As always we will have numerous Academy Award winners and nominees present as well as the most important rising independent filmmakers…
FB: How has SFF impacted the this community specifically?
MF: SFF has had a MAJOR impact on the branding of our region. WE are well respected in the national and international film world, many attend and locate in our region because of our film focus.
FB: How is the Festival addressing the Millennial Generation?
MF: Millennials are a small yet growing portion of our audience and they also represent a large important segment of our filmmakers. We as a festival are firmly ensconced within the Millennial milieu.
FB: How does the Festival affect the Sarasota area in general?
MF: Currently most films contact the festival before they come to town and many of our fest attendees come back to SRQ because of their wonderful experience…more and more local folks are making and producing films…we don't have good tax incentives so we make up for it with great hospitality… more and more groups are working together. The Ringling School of Art and Design is doing a soundstage, designed by Roman Coppola and Semkor with 1.6 million of taxpayer money the county awarded to them which will hopefully attract more production as well. Jeannie Corcoran, our Film Commissioner has been working tirelessly, banging the drum to the Sarasota area tune.
FB: What kind of parties can we expect?
MF: The parties are intended to foment socializing and giving filmmakers the opportunity to mix with the community as well as with each other. We have had some marriages with their roots at the fest! There will be all kinds of special dinners, plus pop up parties around town! The pinnacle is Cinema Tropicale at Michael's On East and the finale of the 1137 party at World of Beer on Main St with some surprise entertainment… That's all for now. See you at the festival!