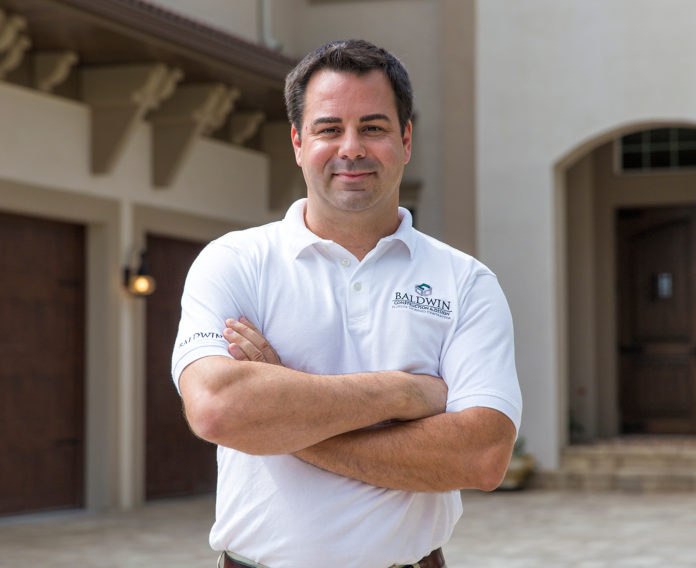 Written by Anne Weintraub
Mark Baldwin, of Baldwin Construction and Design, traded Tornado Alley for hurricanes in 1993, when he relocated to Sarasota from Tulsa, Oklahoma. He cites Hurricane Charlie as " quite the eye opener", but still thinks "…hurricanes are much easier than tornadoes because you can see their path, while tornadoes can leave one house standing and destroy the one next door."
Inspired by Hurricane Charlie and the aftermath, Baldwin wanted to help our community get the supplies they needed to prevent severe damage to their homes and other property. So, 5 days before Irma, he took to Facebook and posted advice, which included where to go for supplies and how to prevent property damage.
But, Baldwin did not stop with advice- he took action and used his knowledge and skills as a general contractor to assist others. He boarded up 4 homes with plywood for friends and neighbors in less than two days. He prepared portable air conditioning systems and stored gas and generators for others in his community.
And-there is more. Baldwin has a good friend whose daughters have cystic fibrosis. He could not let them survive the storm without power. He boarded up their house too. Post-Irma, Baldwin continued his beautiful deeds. His friend owned a restaurant that lost power, putting the food at risk of spoiling. Baldwin saved the day again, hooking up a generator and ended up preserving most of the food. And then there were his friends with the dogs, who lost their air conditioning. Baldwin assisted them too with a portable air conditioning unit, saving the animals from the unbearable heat.
After all was said and done," the biggest obstacle I faced was trying to inform people of what could happen. As a contractor we spend a lot of time training, educating and learning about the effects of hurricanes on structures." As for Irma, Baldwin was just glad it was not worse. You can reach Mark Baldwin via email at mark@baldwincd.com