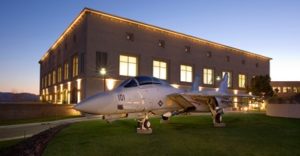 Much of the public has always been intrigued by Ronald Reagan.  Whether or not you agreed with his politics, you couldn't help but learn from his ability to connect and communicate.
Richard Nixon first used television long before he was President when he put his dog "Checkers" on his lap in the early 1950s for a heart-to-heart with the American people. John Kennedy later used television successfully before he was President when he steam-rolled Nixon in the 1960 televised debate—even though people who listened on the radio felt the dual was a draw. But it was former actor turned politician Reagan who used television to a whole new level.
Ronald Reagan was the master of story-telling, optics and connecting—particularly during times of tragedy. It's only appropriate his Presidential Library & Museum in Simi Valley, California, is also aesthetically pleasing, in fact a home run.
There are 13 Presidential Libraries—from Herbert Hoover's in Iowa to George W. Bush's in Texas—but Reagan's has to be the most beautiful.
"It's perched on a mountaintop with sweeping views of the surrounding mountains, valleys and the Pacific Ocean." – Reagan museum brochure
The museum traces his life from his birth in Illinois to his burial on the site of the 100-acre grounds. There are 24 galleries laid out in chronological order over 100,000 square feet—broken up by the actual Air Force One the President used while in office. (You can walk through the plane with a guided tour.)  The President's motorcade and a Marine One helicopter are also on display in the Air Force One pavilion.
Whether you voted for President Reagan or not, this beautiful destination in Southern California should be on your Bucket List.