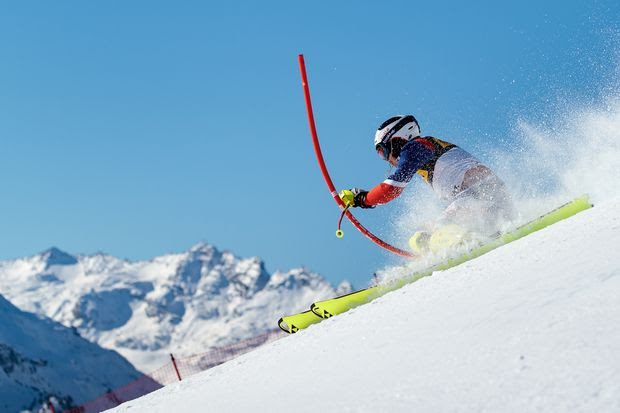 Dave Ryding is currently one of the hottest acts in the slalom-racing scene at the Alpine Ski World Cup and now the Obergurgl-Hochgurgl ski resort is proud to announce their new role as his principal sponsor. It's a match made in ski heaven for both parties: The Ötztal valley is one of the most popular destination markets for British skiers and will now serve as a professional training ground for its most famous skier in preparation for the upcoming Olympic Winter Games.
From now on, Dave Ryding will ski under the aegis of the Diamond of the Alps and the British star will be most welcome here. After all, the UK is the resort's second most important market. In winter 2016/17, 143,000 overnight stays were booked by tourists from the UK, which accounted for 23 per cent of the total number of tourists from various nations in Obergurgl-Hochgurgl. In spite of Brexit, the number of regular guests from the island kingdom grew by 6.5 per cent. "We have been welcoming British tourists here for over 100 years and it is our great pleasure to support Great Britain's best home for an Olympic medal in skiing," explained Lukas Scheiber, Marketing Director of Ötztal Tourismus. Scheiber considers the partnership to be an ideal opportunity to strengthen the resort's marketing presence in the United Kingdom: "This principal sponsoring initiative will allow us to elevate our profile in the UK. Collaborating with such a top athlete, who is now very well known amongst ski-loving Britons, will only serve to increase media and worldwide presence.
FOR THE SKI AREAS OF SÖLDEN & OBERGURGL-HOCHGURGL
Make way for the multi-resort skipass: from 16 November onwards, Sölden and Obergurgl-Hochgurgl offer a joint lift ticket for 3+ days, valid in both ski areas.
Ötztal's ski areas in the rear valley join forces, creating a fairly attractive highlight. Right in time for the 2017 winter season both Top Ski Destinations offer a joint skipass! Therefore guests can freely choose between the two ski resorts with a single skipass, exploring two of the Alps' snow-surest ski regions. A highly promising skipass alliance! Skipasses from 3+ days are available only as combined tickets in the coming winter season while 1-day or 2-day lift tickets are still valid only in one ski area of your choice – nothing changes for these types of skipass.
254 SLOPE KILOMETERS, 55 MOUNTAIN LIFTS, ONE TICKET
In its very first season the combined skipass is available from 16 November 2017 to 22 April 2018. This incredible joint skipass comprises 254 immaculate slope kilometers and 55 top modern mountain lifts. A new dimension in skiing that can keep up also with other big, national skipass alliances as a serious competitor.
A huge range of ski lifts and magnificent slopes is already available very early in the season. Thanks to the high-altitude location of both ski areas and Sölden's additional glacier ski mountains, absolute snow reliability guarantees a unique selling proposition essential for the new product combination.