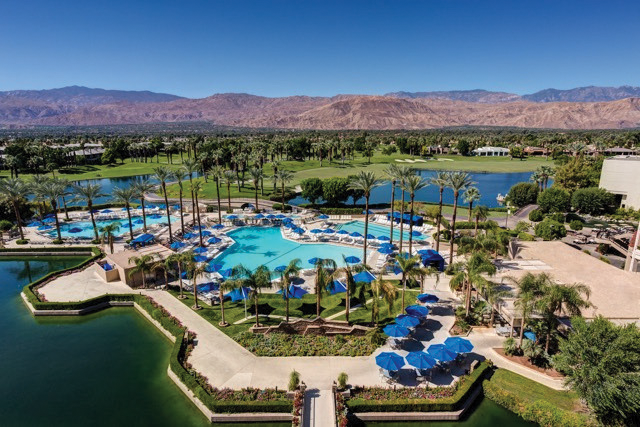 Flying across the country for an intensive weekend of tennis was somewhat daunting. I love the game, however with my rather busy schedule, I rarely get the time to put the hours into truly improve. So, what would be the logical progression? Sign up for a rigorous weekend of tennis at a very famous tennis resort in Palm Desert.
I knew it would be fun and great exercise. I also knew that the other participants might be a bit disappointed at my lack of consistency. But, the professional and friendly team at Peter Burwash International made all those misgivings melt away.
It might also have been due to the impending doom of inclement weather for the desert. Yes, nothing really severe, but a day and a half of rain was in the forecast. The professional team, led by Jim Leupold, Director of Tennis at the beautiful JW Marriott Resort allayed our fears and assured us that we would get the game on, rain or shine- and we did- by using the very large amount of ballroom space. This proved to be great fun and even greater exercise!
Jim Leupold, Director of Tennis, PBI Board of Directors, USPTA Elite Professional and longtime veteran of the JW Marriott Palm Desert resort sent this weather forecast to us via email- The weather forecast for this week shows chances of rain at:
Thursday – 90%
Friday – 90%
Saturday – 20%
Sunday – 60%
….and Monday – 60%
Luckily, it did not rain until the afternoon Friday and Saturday was beautiful! We worked on drills and more drills as well as our doubles game, net game and I actually learned some fun and amazing techniques. The other "campers" were great and from all parts of the country as well as Australia! It was truly a great experience.
The resort was spectacular. The ever-changing vista of the desert was nothing short of mesmerizing. The vast pool area featured a boat and swan filled lagoon, that resembled a true desert oasis. It was a shame that the weather did not lend itself to a relaxing day, poolside.

The grounds were stunning as well, bright green, filled with palms and flowers everywhere. My favorite was the trained falcon, who I had the pleasure of running into several times during my stay. Apparently, he is quite useful in getting rid of unwanted guests in the desert.
The resort was a city unto itself, music filled the atrium overlooking the purple desert mountains and the sparkling lagoon. The resort has impeccable golf, a spa as well as several fine dining and casual dining options.
Peter Burwash International celebrated over 40 years in the business, with five star tennis camps worldwide- and closer to home in places such as The Buccaneer in St. Croix, Reynolds Plantation near Atlanta and our very own Palm Island Resort in Cape Haze, Florida.
Susan Short
WWW.PBITennis.com
WWW.Marriott.com
Save