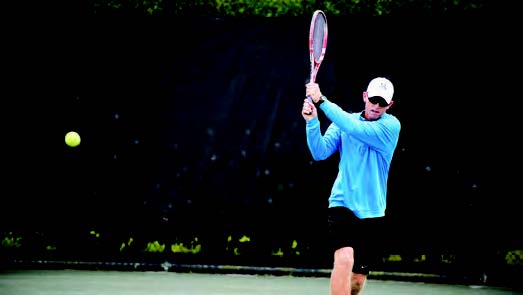 TY BRASWELL
FAMILY BEAUTIFUL: How long have you been at Laurel Oak?
TY BRASWELL:I started working at Laurel Oak in June of 1999 as the Assistant Tennis Pro. I was here for a year and took a job at Florida State coaching the men's tennis team from 2000-2004. I came back to Laurel Oak as the Head Pro in March 2004 and I have been the Director of Tennis since 2005.
FB: Tell us about your tennis career-
TB: I was named after Ty Cobb the baseball player and grew up playing baseball. I grew up in a small town with very little tennis at all and my parents signed me up at 10 years old for a 2 week tennis program. I was hooked right away and started taking lessons and clinics while continuing to play baseball. I had a great coach that made the sport so much fun for me and I spent countless hours on the court and hitting against the carport wall. By age 12 I gave up baseball and we started traveling to Orlando to get better competition. The USTA Junior tournament schedule that I played took me all over the country. I finished my junior career ranked #1 in Florida and #5 in the country in the Boys 18 rankings. I got a scholarship to play at Florida State University and played #1 singles and doubles while I was there. Graduated in 1999 with a degree in Sports Administration and started working at Laurel Oak in June of 1999. I was married in October 1999.
FB: What kinds of great kids programs do you have?
TB: We have an awesome kids program. Our staff is energetic, positive, and passionate. We have lessons and clinics for kids ages 4 and up in our "Start to Finish" junior program. We have something to offer for all ages and levels with our part time beginner and intermediate program and our full time tournament training program. We had 3 players that graduated from our tournament training program this year that have moved on to play college tennis. We also have several of our juniors that our competing in USTA junior tournaments and playing high school tennis. We also have one of the best summer camps around where we offer 9 weeks from June-August.
FB: What kinds of adult clinics, lessons and programs are at Laurel Oak?
TB: The tennis programs at Laurel Oak are tailored to all levels of play, with 4 full time professionals on staff. The Adult Program consists of private lessons, clinics, team clinics, weekly doubles round robins for men and women, cardio tennis, and social mixers. Laurel Oak is active in the Tri City, USTA Adult, Suncoast, Ultimate Tennis, and 941 Junior Tennis Leagues. We have over 15 teams that represent Laurel Oak during the year if you are looking for competitive play. Our monthly social mixers fill up with 48 players on a regular basis and we also get awesome turnouts for our Friday night pro exhibitions.
FB: Is there anything new and exciting on the horizon?
TB: We tried something new here at Laurel Oak for the first time last fall with our "Triples Mixer" and it has been a huge hit. When you play triples there are 6 players on a court. There are two players on the baseline and one player at the net on both sides. You play with a lighter tennis ball that doesn't bounce as high so it makes for better rallies. Our members have loved it and we have even added the event to our club championships. Our last event had 60 players. We are also going to be the first club in the Sarasota/Bradenton area to host an Xglosive event. We have 120 people signed up for the hottest new thing in tennis. Xglosive tennis is glow in the dark tennis in a nightclub environment. Everything glows in the dark and we have fast paced drills, games, music, and all ages can participate.
FB: Any words of wisdom for the aspiring league players?
TB: I would say to take your time and make sure that you find a good pro to help you develop the foundation you need technically to progress to the next level. We find that when league players are competing too much that their technique begins to suffer. It's very important to fine tune your strokes, strategy, and mental toughness with a good coach on a regular basis.
FB: What is your favorite tennis tournament and why?
TB: My favorite tennis tournament is the US Open. It is the only Grand Slam that I have ever been too and the atmosphere is awesome in New York. Some of my earliest tennis memories are watching the US Open on tv and learning how to keep score.
JASON HRYNKIW
FAMILY BEAUTIFUL: How long have you been at Laurel Oak?
JASON HRYNKIW: Since October 2016.
FB: Tell us about yourself and your career.
JH: I've been married to Dawn Hrynkiw since 1996 and we have 2 children, Victoria (17), Tyler (15). I relocated to Sarasota from Jupiter to be the Head Golf Professional at Laurel Oak. I was born in Winnipeg, Canada in 1972. I was introduced to golf by my father at the age of 2. I played competitive hockey during the winter months and golf during the summer months as a child and teenager. After graduating High School, I obtained a golf scholarship to Alabama (1991-1993). I transferred after my sophomore year to Northwood University with a golf scholarship in West Palm Beach, FL where I graduated with my BA in Business Management in 1995. I introduced myself to the Golf business during my college years at Bear Lakes Country Club where I worked in the Golf Shop from 1994-1996. During the summer of 1996 I decided to follow my dream and become a Golf Professional. I obtained the Assistant Golf Professional position at the prestigious Lost Tree Club in North Palm Beach during the summer of 1996 through 2003. In the spring of 2003 I was given the opportunity to pursue my lifelong dream of playing the PGA Tour! I played various Professional Golf Tours (PGA Tour, Web.Com Tour, PGA Tour Canada, NGA Hooter's Tour, European Challenge Tour) from 2003- 2007. After a successful playing career, I decided to focus on my family and return to the "Club" side of the business. In the spring of 2007 I became the Assistant Golf Professional at Philadelphia Country Club shortly after I achieved my first Head Golf Professional position at Andalusia Country Club in La Quinta, CA from 2007-2009. My family and I enjoyed California but our family all lived in Florida and we wanted to return. My next Head Golf Professional position was Gleneagles Country Club in Delray Beach, FL (2009-2015). The opportunity at Laurel Oak Country Club was one that I could not pass up. Laurel Oak is an amazing club with a young vibrate membership.
FB: What is your favorite thing about the golf program at LO?
JH: The Golf program at Laurel Oak is very active. We offer play groups for ALL skill levels. The members are very welcoming and loads of FUN!
FB: Tell us about the courses.
JH: The West Course which has the Rees Jones Design and the East Course which has the Gary Player Design. Both courses challenge all skill levels based on tee's played. The courses are in fantastic condition, tee to green with immaculate putting surfaces.
FB: What makes golf at LO special?
JH: The members along with the staff make Laurel Oak Country Club the finest club in the Sarasota area. The "vibe" at Laurel Oak is upbeat.
FB: Who is your favorite player and why?
JH: Mr. Jack Nicklaus. I had the opportunity at Lost Tree Club where Mr. Nicklaus calls "home" to form a friendship with he and his family. Not only is Mr. Nicklaus the best player of ALL time but he is a true family man.