Founder and CEO, Tia Young of Tia Young Image and Etiquette. LLC. Teaching Business Etiquette, International Dining and Proper Protocol to students of all ages..
FB-Tell us about your business:
TY- I am the Founder and CEO of Tia Young Image and Etiquette, LLC. I am certified to teach in the areas of Business Etiquette, International Dining and Proper Protocol to corporations, business professionals, entrepreneurs, college students, teens and children.
FB-How long have you been in business?
TY-I have been in business since 2002. I became a Certified Etiquette Consultant at the Academy of Etiquette and Protocol while on maternity leave from United Airlines. After the tragedies of 9/11, I didn't want to go back to my job as a Flight Attendant and Trainer.
FB-What inspired you to begin an Etiquette School?
TY-Growing up, my mom always taught my sister and I about good manners and to always use them. My expectations for others were very high. As a Flight Attendant, I also saw a lot of bad manners or rude behavior around the world and I wanted to make a positive difference. I love helping others become their very best!
FB-Can you give us a few business etiquette tips?
TY-Don't mix business with pleasure. Keep it professional on social media at all times. Dress appropriately and don't show too much skin. RSVP to events as soon as you receive the invitation. Send handwritten thank you notes after you receive a gift or if someone does something nice for you. Shake hands firmly, give eye contact and smile sincerely.
FB-Can you give us some do's and don'ts for kids etiquette?
TY-Of Course! Use their common courtesies every day, like Please, Thank you, I'm sorry, Excuse me, and You're welcome. Put the cellphone away and stop texting when face to face with others and while eating. Chew with your mouth closed and keep elbows off the table. Don't post EVERYTHING that is going on in your life, especially negative comments. Respect your elders and be grateful for what you have.
FB-What do you both do for fun?
TY-Victor and I enjoy traveling to exotic tropical destinations, boating around the Gulf of Mexico, watching movies at CineBistro, enjoying date night dinners, and spending time with family and friends.
FB-What is your secret to success?
TY-Our secret to success is keeping God first. Open communication is also very important to us and making sure that we balance quality couple time and business work time appropriately. We make each other laugh every day!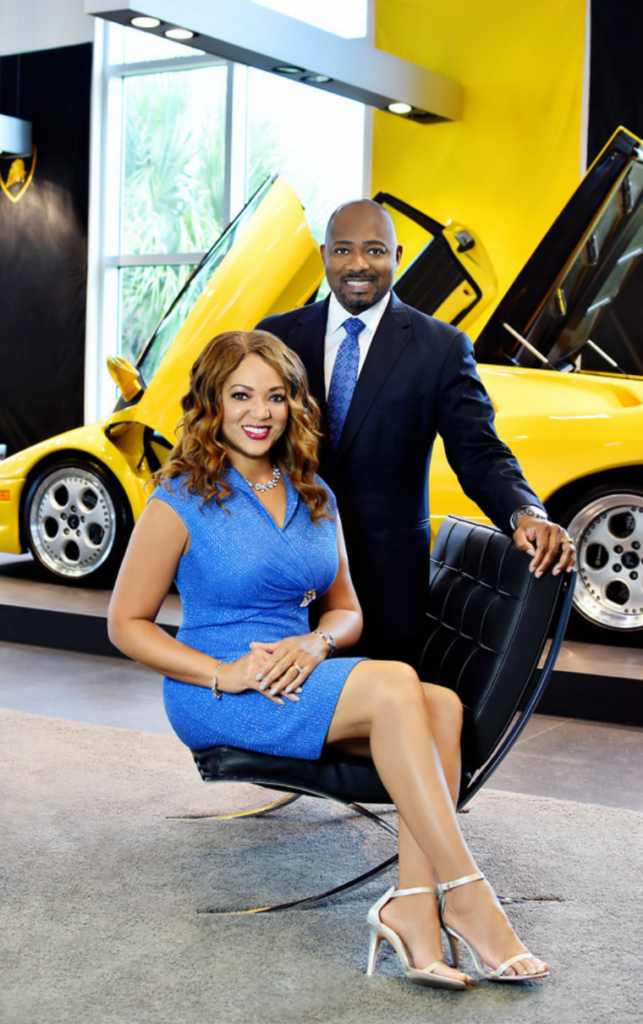 Victor and Tia Young, together making waves! This "Power Couple" has maintained their high velocity careers while balancing family life, raising their 3 beautiful daughters. The secret is carving out time for themselves- that is when they can fit it in!
Cars courtesy of Lamborghini of Sarasota
Victor Young is the President and co-owner of BMW Sarasota, Lamborghini Sarasota and the all new International Auto Spa currently under construction on Clark Road in Sarasota. Young is a partner with Morgan Auto Group and has several other dealerships under construction in Ocala, Florida. He also has a passion for film and has produced several feature length films in association with his film company Victor Young Productions.
Victor host a weekly podcast that is distributed in 34 countries called In Your Business with The Daily Life Coach. You can listen to In Your Business on Apple ITunes or at www.TheDailyLifeCoach.com
You can also follow Young @TheVictorYoung on Instagram, Facebook and Twitter.
by Susan Short
Photo by EMarie Marcan