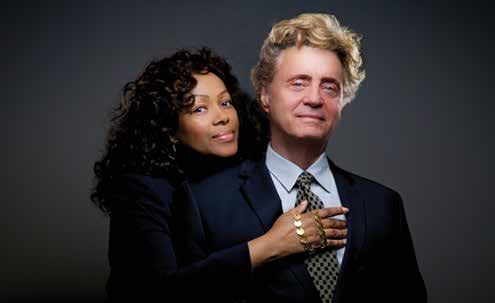 FAMILY BEAUTIFUL'S LATEST TRIP TO Los Angeles kicked off with a sit down Interview with Radio & TV celebrity Shadoe Stevens. Currently the new voice of "Antenna TV", which is a terrific network that features every great show you can think of from the 50s to the 90s including full episodes of "Johnny Carson." Shadoe Stevens' dynamic and engaging delivery on the clever promos and voiceovers just hints at his brilliance. At the same time, he's also become the voice of Craig Ferguson's new show for the History Channel, "Join or Die."
Born and raised in Jamestown, North Dakota. Shadoe was hooked on radio and rock and roll music at an early age. By the age of 10, he'd built his own station and recounted a wonderful story of putting up a hundred foot antenna so he could broadcast from his bedroom to a mile in every direction; a creative genius starts quite young. By the age of 11 Shadoe was hired to do a Saturday morning rock show on radio station "KEYJ," and was promoted as "the world's youngest disc jockey."
During his college years, he worked full time in radio to help put himself through school. Finally, he was given the chance to move to Boston to be a DJ at WRKO. In one year, his huge number one success in led him to Los Angeles. Stevens became one of the City's most popular radio personalities.
He then began his first major television career move as the sidekick/ announcer for "The Steve Allen Show." In radio, at the same time, he became a legendary Program Director, creating and launching "World Famous KROQ-FM. and taking three L.A. stations to number one – KRLA, KROQ-FM, and KMETFM.
Then he went into advertising. His company "Shadoevision" created the Branding, Advertising and Marketing campaign for a West Coast home electronics company called The Federated Group. He played the character Fred Rated in a wildly successful Monty Pythonlike campaign with parodies of many genres of advertising, playing countless characters. It was one of the most successful regional advertising campaigns in U.S. history and the first regional ad campaign ever to receive a 2-page spread in Time Magazine. Shadoe's Awards in advertising include Clio Awards and the Big Apple Award. In radio, he received the Billboard Magazine Personality of the Year Award.
This huge exposure led to television and movies. Shadoe joined the television cast of "Hollywood Squares", as the on-camera announcer and "Permanent Square." It became the number one syndicated show in the country. Shadoe shared the story of how he was asked to host the show while John Davidson was on vacation. They asked him to recommend someone to take his place on the show. Shadoe was already a huge fan of Howard Stern and although Howard wasn't yet known outside of New York City, on Shadoe's recommendation, they invited him to join the show. After the first of five shows, Howard said to Shadoe, "Get me out of here. This is a nightmare." They talked it through, Howard stayed, did a great job, and they remained friends as Howard went on to become the greatest and most successful radio personality in history.
Around the same time, Shadoe took over American Top 40 when Casey Kasem left, and it became the biggest radio show in the world. Shadoe was heard in 120 countries by more than a billion listeners a week, and became the most recognized voice in the world. The massive success of the show, still unmatched to this day, allowed him to travel the world, from Tokyo to Oslo, London to Hong Kong, South Africa to Bali, Shadoe and his family flew in to host huge promotions for major radio and television stations.
I had the opportunity of reading some of his fan mail from that era – it was quite heartfelt and riveting as the connection to his listeners was extraordinary. His voice was the lucky charm for many and helped so many people through trying times and transitions in their lives. Some of the mail came from places as far as South Africa to Qatar to Guatemala. This was a time before people sent emails and they actually wrote letters- which was pretty amazing.
During this same time, Shadoe did several movies, was the star of a one hour CBS series "Loose Cannon," then joined the cast of another CBS show, the Top 20 sitcom, "Dave's World." Shadoe played "Kenny" alongside acting veteran stars Harry Anderson and Meshach Taylor.
Shadoe went on to become the voice of "The Late Late Show with Craig Ferguson" and has continued to be the voice of countless commercials and television shows including The Grammys, The Emmys, and Comic Relief. In addition to everything else in the past ten years he: created "MentalRadio"– talk/ comedy/radio theater on SiriusXM; "Cabo Wabo Radio," a radio station for rockstar Sammy Haggar; 85 episodes of "Blackout Television" – improv/comedy/podcast theater with an all-black cast; "RhythmRadio" – the sound of the world in a good mood – world music radio on the air in 30 countries and on the Internet in seven languages; wrote five children's books; and had a major show of his artwork at the number one gallery on the west coast, "Galerie Michael" on Rodeo in Beverly Hills.
What struck me first was the spiritual depth and emotional power of his artwork. Shadoe is among other things, a prolific artist. He has a wonderful collection of art that is equally beautiful as the home he shares with his gorgeous wife. He is a highly spiritual man and this comes through in his complex series "The Trans-Dimensional Symbolism of Rocky Waters." He describes his multimedia creations as M.C. Escher meets Salvador Dali, with optical illusions he refers to as Transcendental Wha Hoo. Shadoe uses word-art as an integral part of the work, and each piece contains a description of its meaning and story. He says, "Rocky Waters is a metaphor for difficult times. Each of the twelve large-scale images contains a different experience as Rocky faces, doubt, change, and fear of the unknown, before finally surrendering and awakening to boundless joys and endless, unspeakable rewards." Shadoe Stevens' art is a must see.
Shadoe has been "enthusiastically married" since 1986 to his beautiful wife Beverly. A former model, she is the glue that holds the family together. Beverly is also an artist who specializes in Barbie-scale miniatures. Her studio is a city-like museum containing tens of thousands of pieces. Shadoe and Beverly have two beautiful and accomplished daughters. Their youngest daughter Chynarose, is an aspiring esthetician and makeup artist. She works in the beauty industry while attending school.
Meanwhile their oldest daughter Amber Stevens West is celebrating her first anniversary, married to the talented actor Andrew West, best known for "The Walking Dead." A successful actor herself, Amber is currently starring on the "Carmichael Show" on NBC, was one of the stars of the movie "22 Jump Street," plays Joe Mantegna's daughter on "Criminal Minds," and was one of the stars of the ABC Family television series "Greek." Shadoe's son Brad, from his first marriage, is a talented artist who lives in Seattle with his family–Lara, Dacotah, and Brian–and works for Boeing.
It was a special joy to spend time with the Stevens family–they are beautiful, charming, artistic, inspiring, funny, and quite accomplished. The future is bright and creativity reigns supreme–that is Shadoe Stevens' greatest creation so far. – Susan Short with special thanks to Carlo Alberto Orecchia