By Ray Collins
To celebrate our 10th anniversary, Erin and I wanted to do a little staycation away from Sarasota—and where better than an hour up the road in Tampa.
A little history–I had worked for a radio station in downtown Tampa last century when people actually listened to the radio. There was not much downtown—besides offices and industrial sites. Now all these years later, all that has changed—and the epicenter of that makeover is around Water Street, site of the new JW Marriott Tampa Water Street. It's only a few years old, but already a go-to place for business travelers, vacationers–and even pro sports teams. www.marriot.com/tpamc
Fun Fact: During Covid, some NBA teams practiced in the hotel's ballroom! (Basketball teams require about 45 rooms, about half what the NFL teams request. Baseball teams are in the middle, with around 70 rooms. And no, players no longer share rooms!)
I knew we were in the right place when I saw players from the Montreal Canadiens coming into the hotel as we arrived. I was thinking how much pro athletes and entertainers must love coming to Tampa since they can literally walk across a plaza from the arena to the JW Marriott. Also, a lot of my friends stay here as well to attend those games and concerts. You can't get any closer!
From our 22nd floor room, we literally had a bird's eye view of the arena as well as the cruise ships coming and going from the Port of Tampa. Comfortable king-size bed, high-tech amenities, a large bathroom with a soaking tub–and that incredible view of downtown Tampa and beyond.
We soon learned of another advantage of staying at the JW Marriott Tampa Water Street. Our Tampa-based friends who were joining us for dinner said they had heard good things about the hotel's restaurant–so we ate downtown at the Driftlight Steakhouse. (The restaurant is named after all the lighted bridges in Tampa.)
It is truly decadent to come down an elevator for a high-end dining experience without having to worry about driving, parking or even bad weather. Love it.
I had a wedge salad followed by a perfectly prepared filet while Erin enjoyed the halibut special. The variety of wine choices was excellent, and our server, Juan, helped us pair our respective meals appropriately. Erin had carrot cake for dessert while I had key lime pie and decaf coffee.
After dinner we stopped for a nightcap at the lively bar in the lobby—where we met another couple from Brandon who was also celebrating their anniversary at the hotel, something they called a new tradition.
**
The next morning after enjoying coffee in the room, we went downstairs to rent bikes outside the hotel. We rode around the quiet streets and on the popular riverwalk before coming back to try out the spa.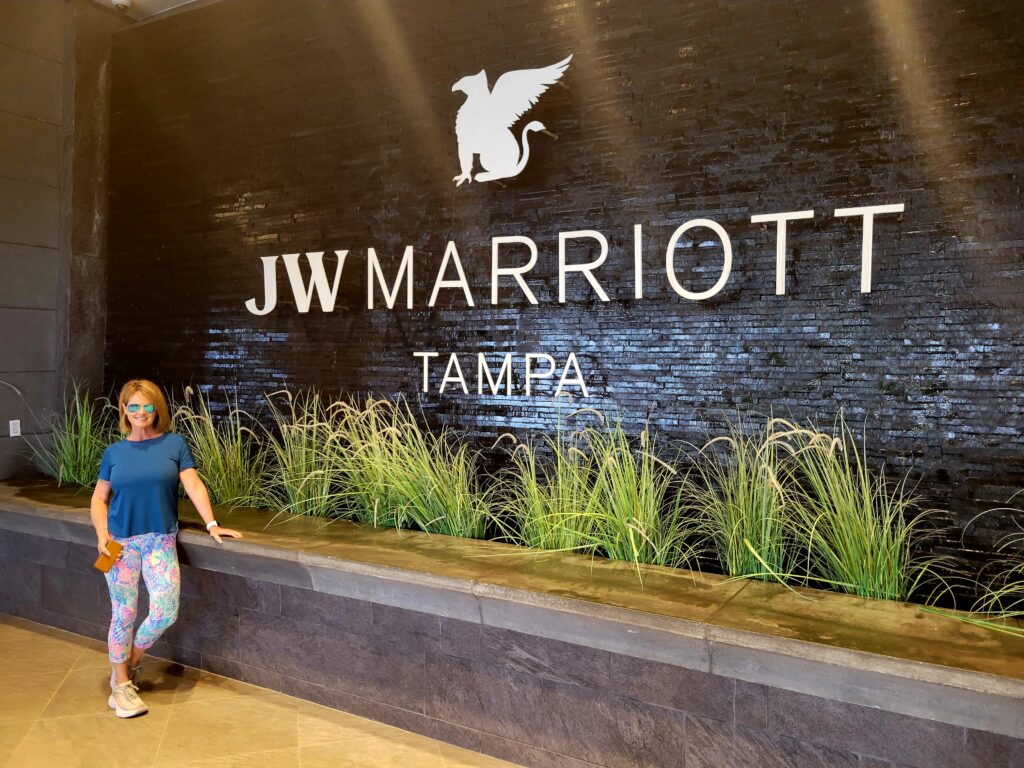 The "Spa by JW" is one of the biggest in Tampa and is adjacent to the pools and the fitness center on the 6th floor. Besides all the treatment rooms, the locker rooms have saunas and steam rooms and there's an outdoor mineral pool to enjoy as well. Erin opted for a facial while I got a much-needed deep-tissue massage. (The therapist, Deandra, was very competent—and even helped relieve a knot in my back that had taken up residence a week earlier.) The spa also has a diverse wellness component with year-round scheduling—from "Wellness Wednesdays" to "Mindful Yoga."
By the time we re-united after our spa services, Erin was already browsing in the spa's retail space. She fell in love with a bikini that we bought and she immediately wore to the adjacent pool a few minutes later. The JW Marriott Tampa Water Street has two big rectangular pools, end to end, with plenty of luxury cabanas, food & beverage service and seating along the perimeter. I still couldn't believe we were so close to the arena, and it was fun to watch a big cruise ship pull out of port just a couple blocks away.
**
Our beautiful weekend had already come to an end. We were able to text the valet to request our car as we finished packing. It was waiting for us as we arrived and the attendant referred to me as "Mr. Collins." We were pleasantly surprised at the upbeat attitude of all the employees we encountered over the previous 24 hours.
We were on the expressway within blocks and heading back home to Sarasota. Ideal getaway. We agreed to make the JW Marriott an annual tradition for our anniversary.
Ray Collins has been a travel writer since 2009. He's been published over a hundred times, reviewing destinations around the world. www.raycollinsmedia.com/articles
https://www.marriott.com/en-us/hotels/tpamc-tampa-marriott-water-street/overview/?scid=f2ae0541-1279-4f24-b197-a979c79310b0