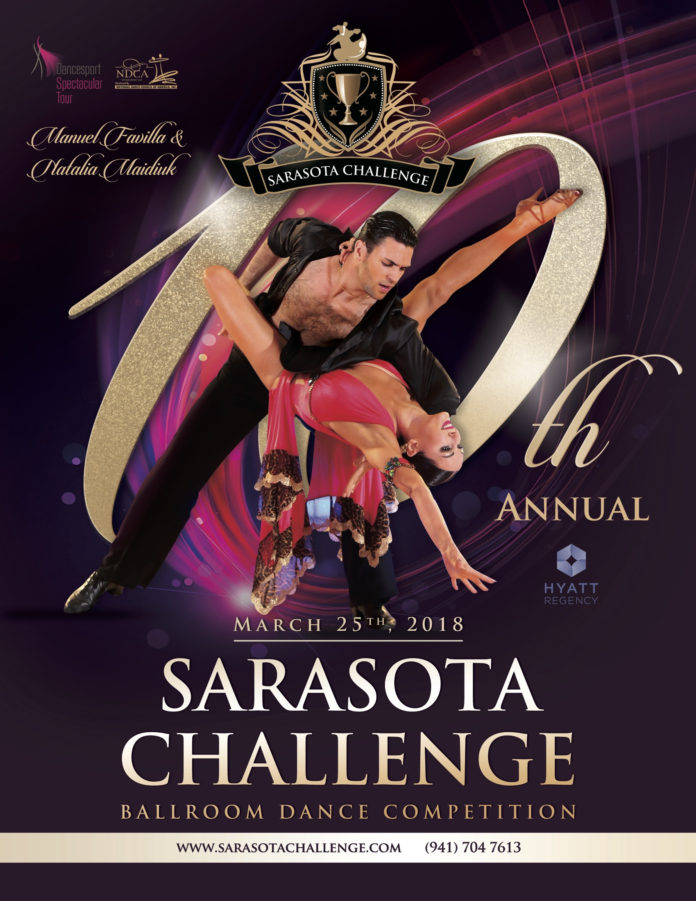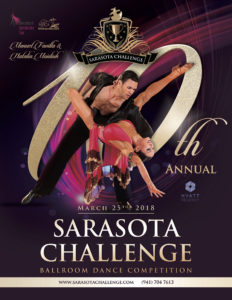 The 10th annual ballroom dance competition is March 24th & 25th , 2018 at the Hyatt Regency Sarasota, Florida.
The Sarasota Dancesport Challenge is back celebrating its 10th year anniversary,
Featuring World Latin Dance Champions Manuel Favilla and Natalia Maidiuk and
few other surprise guests throughout the competition.
Professional and amateur dancers from across the nation will gather at the Hyatt
Regency Sarasota March 24th and 25th for Florida's finest Dancesport
competition, featuring professional and amateur contests and informative
seminars led by International Latin champions, Bronze medalist at the world show
dance championship Manuel Favilla and Natalia Maidiuk and 3 time US Smooth
Champion David Hamilton.
Continuing a long-held tradition and well-earned reputation, the Sarasota
Challenge organizer, renowned coach and judge, a former European ballroom
finalist, Lithuanian champion and owner of Empire Ballroom Studio, Mr. Sid Pocius
extends a warm invitation to all Sarasota and surrounding areas to attend one of
most elegant,fun and spectacular events.
Attendees will get to enjoy a night full of competitive ballroom dancing at its finest, in an
elegant setting and with a welcoming atmosphere perfect for both the ballroom
veteran and first-time initiates. The Sarasota Challenge offers a unique
opportunity to see aspiring amateur dancers competing with their professional
instructors throughout the day, as well as renowned professional couples in
exhibition during the evening sessions.
The jury panel consists of one of the most celebrated former or current World
and US Champions members .
Tickets and further information:
Doors open on Saturday, March 25th, with a 4 p.m. seminar taught by World Latin
Dance Champions Manuel Favilla and Natalia Maidiuk , followed by a 5 p.m.
seminar with US Champion David Hamilton. Saturday 's event also includes a
cocktail gathering, a gourmet dinner with wwine, general dancing and world class
professional show.
Competitions for Pro/am and amateur couples in the Smooth and Ballroom
divisions begins on Sunday 8 a.m., followed by the Rhythm and Latin divisions at
1pm. The cocktail reception at 7:30 p.m. will be followed by formal gourmet
dinner in the ballroom, an awards reception and more general dancing. The
evening will be concluded with a Professional Show Extravaganza Celebrating the
10th year Anniversary featuring the headliners of the evening, Champion
dancers Manuel Favilla and Natalia Maidiuk.
http://www.sarasotachallenge.com/