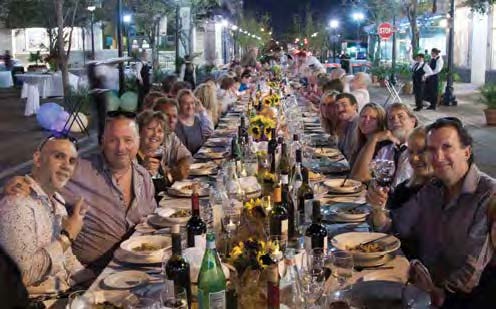 WINE AFICIONADOS HAVE HAD MARCH 17-20, 2016 carved in stone on their calendars for months now. Welcome to the 26th Annual Florida Winefest & Auction. Locals and out of towners will sip and sample some of the world's best wine in a variety of locations located around Sarasota Bay. Foodies in the know look forward to dining in the streets of downtown, savoring the flavors of local celebrity chefs and raising their bid paddles for some of the most intriguing auction lots in the wine business. David Elswood of Christie's, London will be celebrating his 21st year as auctioneer.
With over one million visitors a year, Sarasota has become known regionally, nationally and internationally as one of "THE" top Florida West Coast destinations. The Florida Winefest & Auction in Sarasota never disappoints. According to Board President Sandy Loevner "just as Sarasota continues to grow as a magnet for visitors so does our organization. Predictions show that visitors keep increasing each year so we are dedicated to making sure this annual March Florida Winefest of ours is a WOW experience for all. We are excited to announce a few other culinary events through the year to satisfy cravings from visitors and local residents for exceptional events year round. Our offerings will continue to satisfy the most discriminating culinary palettes as well as those who love wine."
The Florida Winefest & Auction has consistently been in the news with rave reviews from Day One. USA Today ranked it as one of the country's best charitable events. The New York Times has recommended Winefest as a travel bucket list if you have "a passion for food, cooking, wine and spirits Sarasota is the place to be." The list of exhibiting wineries is always prestigious, having resulted in some of the most influential wine critics offering rave reviews through the years.
Locally, the media have embraced this annual event, claiming it is their favorite charity and one of the highlights of the Sarasota social season. Indeed, the Florida Winefest & Auction is successful with over $8 million awarded to local disadvantaged children's programs in 25 years. The Grand Tasting features wines from dozens of wineries and guests will have the opportunity to meet vintners and knowledgeable winery representatives. Guests can bid on wines, lavish dinners, adventure travel, jewelry and more. The Winefest Board is made of friends who have worked together for a long time including celebrity chefs Paul Mattison and Chris Covelli. All are extremely busy but dedicated to the cause. The event offers four days of entertainment for visitors near and far but more important we are all about helping disadvantaged children in Sarasota and Manatee counties. Helping those children in our community eat, sleep, and be educated is a priority.
For ticket information contact Florida Winefest & Auction (941) 952- 1109 or visit FloridaWinefest.org. – Cindy Cockburn