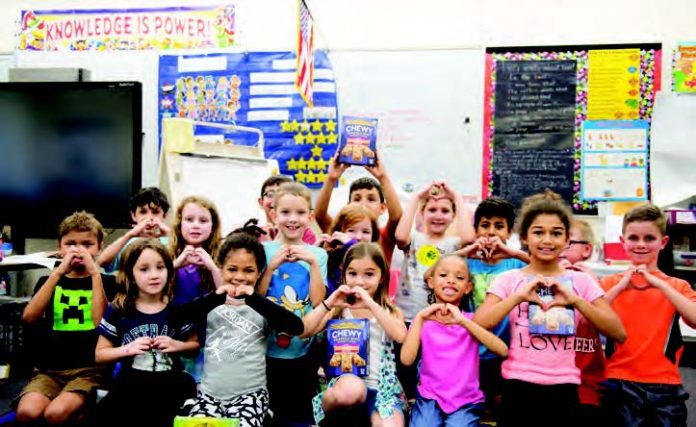 I graduated from the University of Central Florida in 1998 with my Educational Specialist degree in School Psychology. Upon graduation, I returned to my hometown of Bradenton and accepted a job with the School District of Manatee County as a School Psychologist. This is my 18th year serving the students of Manatee county. Currently, I serve one Title 1 elementary school, and also serve as the Lead School Psychologist for my department. Working with children, especially those from diverse backgrounds, is my passion. I am always looking for opportunities that allow the community and schools to collaborate in order to help better the lives of all our students.
FAMILY BEAUTIFUL: What schools do you work with?
VAISHALEE WILSON: Currently, as a school psychologist in Manatee County Schools, I am assigned to one Title 1 elementary school as part of my assignment (Palmetto Elementary). I also support other schools in Manatee County as needed. You may be wondering, what does the designation of Title 1 even mean: Title 1 funds are federal funds aim to bridge the gap between low-income students and other students. The U.S. Department of Education provides supplemental funding to local school districts to meet the needs of at-risk and low income students.
FB What is the extent of Childhood hunger in Title 1 schools in Bradenton?
VW: We have 25 Title 1 schools in Manatee County. 22 of these are traditional public schools, and 3 are charter schools in our district. The designation of "Title 1" means that at least 75% of the students at that particular school are considered to be economically disadvantaged and are eligible to participate in the free/ reduced lunch program. Manatee County is unique in that we provide FREE breakfast to ALL students, at ALL schools, whether the school is considered to be a Title 1 school or not. In addition, free breakfast and lunch are provided to all students at the 21 Title 1 schools in the district plus 4 charter schools:
Abel Elm. Lee Middle, Palmetto Elm. Ballard Elm. Lincoln Middle Prine Elm. Bayshore Elm.Manatee Elm. Rogers, Bayshore High, Moody
Samoset Elm.Blackburn, Oneco Elm.Sea Breeze, Daughtrey, Orange Ridge, Sugg Middle, Harllee Middle, Palm View, Tillman
CHARTER SCHOOLS:
Horizons Academy
Just For Girls Academy
Oasis Middle School
Visible Men Academy
FB: What is being done?
VW: As stated above, the school district of Manatee CountyCounty provides FREE lunch to all students at the above schools, whether the students would qualify for free/reduced lunch or not. In addition, a local organization, F.E.L.T., also assists students who are considered to be homeless with a "weekend backpack" food program for the weekends. Manatee County is home to approximately 3,500 homeless – many of these are children. Each child in the F.E.L.T. backpack program is pre-qualified by the Project Heart department of Manatee County Schools.Project Heart is the Manatee School District's Title X Homeless Education Program, providing education related support services for students who are homeless or at risk of becoming homeless. Project Heart comes under the McKinney-Vento Education of Homeless Children and Youth Assistance Act. The defined qualifications are:
Children and youth sharing housing due to the loss of housing, economic hardship or a similar reason
Children and youth living in motels, hotels, trailer parks or camp grounds due to lack of alternative accommodations
 Children or youth living in emergency or transitional shelters
Children or youth living in cars, parks, public spaces, abandoned buildings, substandard housing, bus or train stations
Children awaiting permanent Foster Care
FB: How can the community help?
VW: The community can help students by coming out and supporting the First Annual Flavor Bull Event on April 21st and participate on this "Hops for a Cause". In Manatee County support can also be given to a local organization with a monetary donation or needed food/snack items, Feeding Empty Little Tummies (FELT). This organization provides food for the weekend for students at select schools who are designated as being homeless. Please contact info@feltinc.org for further information.
FB: How does hunger affect learning?
VW: Chronic hunger can prevent students from making the most of their educational opportunities, no matter how hard they try to ignore its effects. Hunger can have physical and psychological effects on young people that make learning substantially difficult. Just like gas is necessary for our cars to run, food is the fuel necessary to get through the day, no matter our age. The calories in food provide energy for us to carry out regular day to- day activities. However, without an adequate amount of food, or the energy from food, students may fall asleep in school or lack the energy to pay attention. The brain, like the lungs, heart, arms and legs, is a part of the human body. It requires energy to function properly. Children experiencing hunger are more likely to have problems with memory and concentration because they do not have the energy to carry out these functions. Malnutrition can tamper with sleeping patterns as well, making a child too tired to get anything out of a full day of school. In addition, the brain develops rapidly at a young age and without the right nutrients, the brain cannot develop properly, resulting in long term effects on learning abilities. Lack of proper nutrition can also make children more susceptible to illnesses and therefore cause absences from school. Children cannot learn in school when they are absent for an extended period of time. Studies from the American Psychological Association reveal that there are also very real psychological effects of hunger on education. Hunger has been observed to cause depression, anxiety and withdrawal, all of which are barriers to a child and his/her learning. Behavioral problems can also be a detrimental effect of hunger and a child's educational opportunities. In a classroom setting, a single child's behavior can affect the rest of the students, the teacher's attention and the overall learning atmosphere. In this case, hunger not only disturbs the affected child's learning, but the learning of others as well.
FB: What percent of kids suffer?
VW: In Florida, according to a 2014 study by Feeding Florida, approximately, 1.1. million children are "food insecure" meaning that within the last year, these children were without reliable access to a sufficient quantity of affordable and nutritious food, at some point during the year. Statistics from Feeding America estimate that in Manatee County, approximately 25.7% of our children are considered to be "food insecure", which equates to about 17,130 children who live in Manatee County. In Sarasota, approximately 25.1% or 14, 950 children and youth are considered to be "food insecure."
FB: And, anything else you would like to add?
VW: Let's come together, as a community, to not only raise awareness about the state of childhood hunger right here in our communities, but let's band together make a difference, for our community, our children, our future.