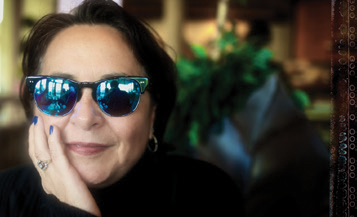 YOU CAN'T HELP BUT SMILE when you meet Luisa. She just has something about her that you have to love. Bright, warm, funny with a positive aura that surrounds her and you when you get into that space. But don't let the sweet persona fool you. This gal is about as high powered as you can get in the world of comedy writing in Hollywood. She began her career as a "type" cast actress. Lusia recalled, "They would always have me read for the role of a Latina drug runner's girlfriend or some sort of a street walker" she mused. Sadly, that was the sign of the times and she progressed into much greater positions.
Although she was born in Hollywood, she moved to Guatemala when she was quite young. By the time she left Guatemala at age 8, she had her own TV Variety show. During her teen years, she traveled throughout Europe with her mother, who was a concert pianist. She picked up French and Italian and spoke it fluently. She graduated from the High School of Performing Arts in NYC with honors and set off for a career with the Grand Theatre de Genève Ballet Company in Switzerland.
Her charmed life led her back to Hollywood and as a young actress, she humorously recalled being cast as a multitude of gang girls, hookers, maids and pregnant women. This propelled her into the creation of the highly successful comedy troupe, Latins Anonymous. That led to a Disney writing fellowship and eventually a two time nomination for the highly respected ALMA Awards. Latins Anonymous has received over 35 National productions and is taught in several Chicano Studies courses throughout the Southwest.
Luisa's career is a dream come true for aspiring writers. She has amassed a legendary resumé and it keeps on going with her current project for Amazon "Just Add Magic" that premieres January 2016. Recently she was in Sarasota, addressing the local filmmakers as well as the students at Ringling School of Art and Design.
She was the Co-Executive Producer on the George Lopez Show for five seasons as well as worked on most of the 100 episodes of "Are We There Yet" for TBS. The credits are staggering seven seasons on Square One TV and up for Emmy Consideration. She has worked with Robert Duvall, Jeff Bridges, Carol Burnett, Ed Asner, Robert Wagner,Andy Garcia, Edward James Olmos, George Clooney, Cheech Marin, Liz Torres and more.
Her tales of the writer's room are legendary and always sprinkled with humor. When thinking of the tremendous pressure to consistently be funny and entertaining it would make even the strongest person crack at the edges, but not Luisa. She regaled the students with tales of "male" one upmanship where the good old boys club came into play. She opted to take the motto, "If you can't beat them, join them" and put their jokes to shame! Bravo Luisa!
Luisa and her husband Max have sold properties they have developed
to every major network on TV. Their incredible strength is apparent as writing and life partners. Their son, Dario, is a super talented artist who is working on illustrations for an up and coming young adult book.
A well-heeled, classically trained artist and ballet dancer, Luisa is probably the least likely comedy writer but her soul is sparkling and filled with a love of life and the entertainment business. Her brilliance shows in all of her endeavors. She is truly a role model for us all. – Susan Short