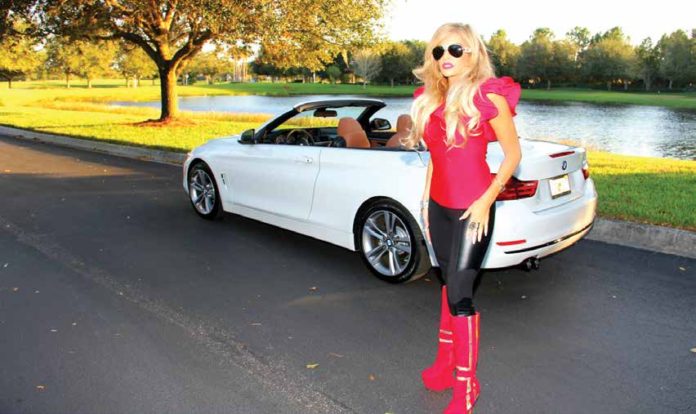 I SLID INTO THE DRIVER'S SEAT and slowly put my foot on the accelerator–it was love at first sight! The stunning saddle interior that wraps around you like a well-tailored leather jacket. It drives like a dream–fast, handles extremely well and gets the right amount of attention when cruising along the roads of just about anywhere.
The saddle interior is just drop dead gorgeous, and really, really comfortable. It is the perfect combination of driving luxury and city chic. The convertible hard top handles like a dream, opens and closes quickly and easily. I caught a few other motorists staring and just how quickly the top went down! We live in Florida and most of the year, it is prime for having the top down. German engineering make this baby a super fun ride, taking corners easily and intense pick up. This convertible gets great marks in all the major categories. The 4 series convertible employs a three piece retractable hardtop. It will go up or down in just about 20 seconds flat and can be operated on the fly. Did I say that? Well, it does and can retract at up to 11 miles per hour when that quick drizzle or impending storm breezes in.
The insulated top is excellent for encasing oneself in silence and is good for a 2 DB reduction in ambient noise. So, it is actually very, very quiet and it is hard to tell that you are riding in a convertible when the top is up.
The body style is sexy, without being over the top. My version was a vision in white, perfect for any season. The car's interior is almost identical to the non-convertible version and is quite comfortable and even posh for a smaller vehicle. Truly when the top was up, it was hard to remember that this is actually a convertible. Most spectators or onlookers were amazed that this was a convertible.
The electronics were state of the art, gently prodding me when I accidentally went over the speed limit on 75. This was very difficult not to do, and the reminder to slow down was not a bad thing! The Bluetooth easily connected to my phone and Internet, so all the comforts of home were easily available.
The BMW 4 series hardtop convertible is sure to be a huge hit with BMW fans. It is amazingly fun to drive, handles very well and is super quiet with the top up.
It looks good, drives well and draws attention, all these being very logical reasons to buy it for anyone that's interested in such a stunning car. After all, let's face it, you don't buy a convertible for practicality and we just love beauty and function! – Susan Short