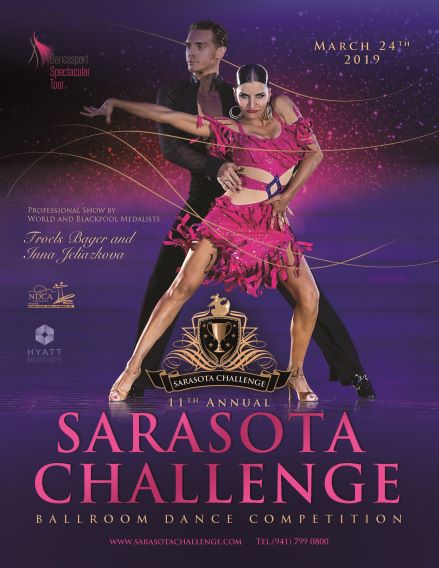 The 11th annual ballroom dance competition will be March 23rd & 24th, 2019 at the Hyatt Regency Sarasota, Florida
The Sarasota Dancesport Challenge is back celebrating its 11th year and its organizer promises that this is going to be the best year ever.
Continuing a long-held tradition and well-earned reputation, the Sarasota Challenge organizer, renowned coach and judge, a former European ballroom finalist, Lithuanian champion and owner of Empire Ballroom Studio Mr. Sid Pocius extends a warm invitation to all Sarasota and surrounding areas to attend one of most elegant, fun events this year featuring a spectacular show by World & Blackpool Top 3 Latin Champions Troels Bager & Ina Jeliazkova; world-renowned artists and athletes that have inspired and captivated audiences around the globe through the art of dance.
Doors will open on Saturday, March 23th, with a 4 p.m. seminar taught by World & Blackpool Latin Champions Troels Bager & Ina Jeliazkova followed by a 5pm seminar with The World and US Champion Olga Faraponova.
The Sarasota dancesport seminars are a unique opportunity to be trained by the World's Best Latin and Smooth professional dancers and phenomenal coaches. The seminars will cover the wide range of topics from nuances and core principles of basic techniques to multiple layers of dancing and competitive performance. The seminars are open to the public for all level of dancers.
Competitions for Pro/am and amateur couples in the Smooth and Ballroom divisions begins on Sunday March 24th at 8 a.m., followed by the Rhythm and Latin divisions at 1 p.m. The cocktail reception at 7:30 p.m. will be followed by formal gourmet dinner in the ballroom, an awards reception and more general dancing. The evening will be concluded with a Professional Show Extravaganza featuring the headliners of the evening, our Champion dancers Troels Bager and Ina Jeliazkova.
An assortment of vendors will have a plethora of ballroom gowns, supplies and shoes available for perusal and purchase.
Tickets and further information:
Tickets for all events are available to the public, individually or as a package.
http://www.sarasotachallenge.com/