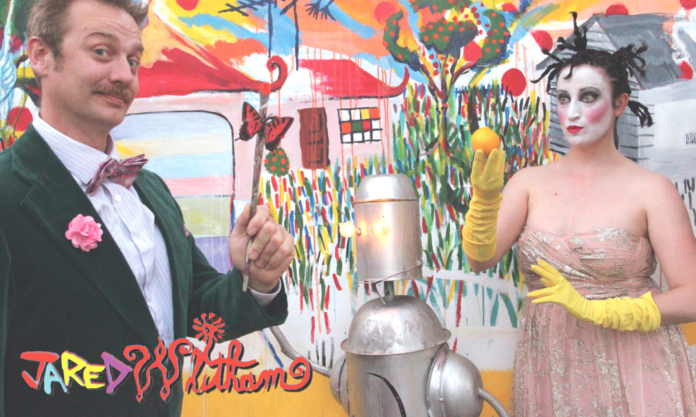 PERFECTING THE IDEAL-
FB: What are you currently working on?
Jw A: I'm producing an experimental live stream tv show this March. I'm super excited about, Chickster's Next. In partnership with Pitzer college. About a crazy old Hollywood Agent who's stuck in the past. Special guests will may include, Reggie Watts, Emo Philips, Zach Galifianakis, Maria Bamford, Dan Harmon, Chuck Mc Cann, Eric Andrea and the list goes on. I know so many amazing people here in LA. It's going to be great to give every one of my friends in Hollywood a spot in the show. My wife and I are planning a world art tour for a new series we were collaborating on. Very giant, very very expressive paintings that combine with my April's performance art comedy. A few cities on the list include Paris, Berlin, and Tel Aviv. We are currently looking for patrons to help support this tour. So if you have millions of dollars. This is a great opportunity to make art history, support great art, and make great financial investment!
Where do you live and how does that inspire you?
Jw- A: I wake up every morning with the Hollywood sign in my backyard totally inspired. I live in a house just like Dorothy's house with my amazing wife April Hava Shenkman who is a totally inspiring person. My life is like La La land the movie but a thousand times more amazing. My wife and I are blazing the trail making art with each other everyday. I live in one of the most culturally diverse city in the world. My art depicts different worlds much like LA. A few blocks up is Thai Town. If I go a few blocks down is Koreatown. I live in what is known as little Armenia. I really think I have found Oz.
I'm originally a Sarasota boy. My first art shows were in Sarasota and my arts roots are inspired by Florida Land.
Please explain some of your projects-
jw A: I'm a multimedia artist. My first language is painting. I'm often times process driven with conceptual antics. I combine video, painting and performance. I make TV but sometimes my TV shows get shown in Galleries, and Art Museums.
I'm most proud of my television Channel Network Broadcast in NYC in 2008. I have a million dollar grant behind me to broadcast My own TV channel to 2.5 million New Yorkers everyday 24/7 for entire year on Commercial UHF. Some of the episode broadcast were actually taped in Sarasota. I loved it. I became New York famous. I had people that came up to me in the street for my autograph. The people loved me for it and I really loved the attention. I must mention that the program director who set all this up is also a former Sarasota kid Gabe Galvin.
How did your early label of developmentally disabled affect your self image?
Jw A: It could have killed me. It's a terrible thing to do, to label and separate someone from the group especially children. My brain is just a little different and exotic. I have always had amazing abilities and gifts to share with the world. A close friend of mine Ransom Riggs the author of Miss Peregrine's Home for Peculiar Children. He made a great analogy. Ransom is from Englewood. like, myself and many others from the Sarasota we are all the particular children. We are all really weird children with amazing abilities. Now as adults we are proving to the world that anything can be possible. We have to look at what we can do instead of what we can't. Everyone is special in there own special way. That's what we should celebrate.
What inspires you?
Jw A: When something ordinary becomes extraordinary. To take nothing and to make something. The not knowing part of life. People doing things that better humanity, and most of all love.
Susan Short
Photo by Jared Whitham
Collect Whitham's art at Sattchiart.com
My wife's website:
On YouTube-Chickster's Nest