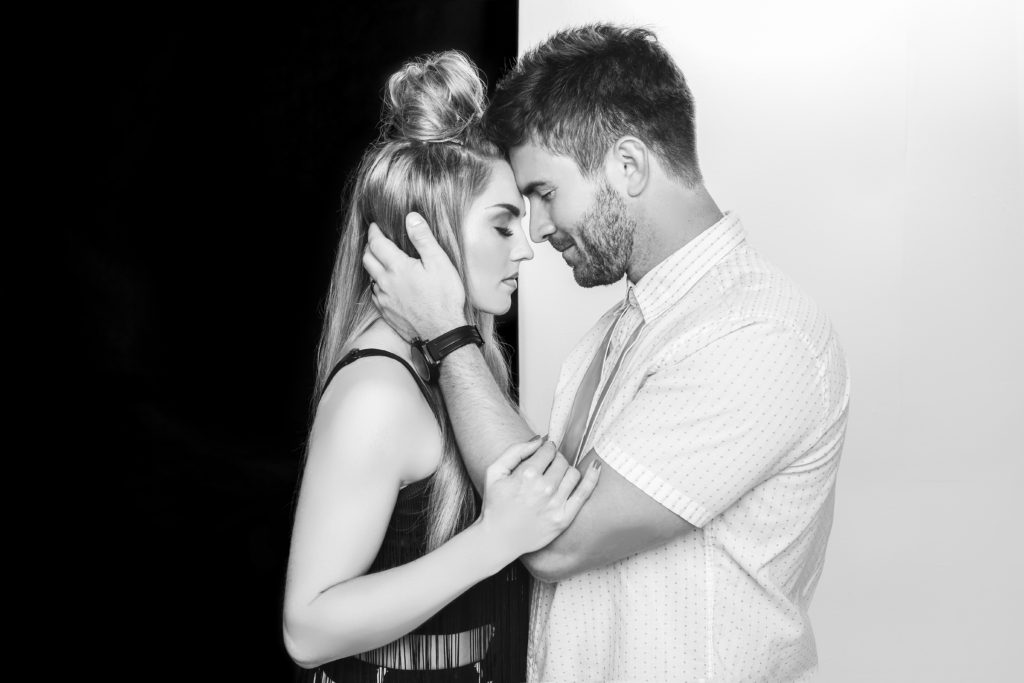 You two have a pretty incredible story – How and where did you two meet each other?
-God is so good. He tapped our mutual friend on the shoulder and had her invite both of us to Daytona Beach on a Florida getaway to enjoy the beach and live music. When we met it was a divine explosion!
Where does the name Midnight Noon come from?
-Our friends have a song that goes, "Maybe I'll be Midnight and you can just be Noon." Dave is more of the early bird and Whitney is a little more like a night owl. Being husband and wife, we are one flesh yet we're opposites. So Midnight and Noon are both 12 o'clock yet they are two different hours of the day. 12 also relates to our faith, marriage and music. There were 12 disciples in the Gospels, we got married on the 12th of October and there are 12 notes in music. You'd think that's already a good bit… there are also 12 letters in MIDNIGHT NOON, we pray every day at 12:12 and there are 12 letters on each side of M and N… People say it's meant to be…we say Count It!
When did you both decide to move to Nashville and pursue music as a couple?
Our first road trip together in February 2013 covered 32 states in 40 days…after that trip it was clear that Nashville would have to become our new home if we wanted to pursue music as a career. We were traveling back and forth from Indiana to Nash and knew this would change. So on, yet again, another trip to Nashville to demo a song for a friend, we met producer/guitar player extraordinaire John Willis. We found out his wife Stephanie was selling her home in Hermitage so we scheduled a visit. This house was the house we had been looking for for over a year! God's timing is perfect! Nashville, here we come! It's now been 3 years!
What are some challenges your marriage and faith have gone through while building your music career? -What advice do you have to other couples and/or families who are also creative- business partners?
-Oh, wow… are you sure we have room in the magazine to answer this one? [laughs] Our struggles started to subside when we had revelation that we weren't able to do it all on our own and that we needed to rearrange our priorities. So we flipped the script and put God the Father first, then our love and marriage, then finally our music career. Once we fixed the order in our life, things started rocking in the right direction. Respect for each other increased, the music got better and doors of opportunity flew open.
Advice to other couples and families: find a local church where you are fed by the pastor and where you feel in one accord with the church family. Get involved and start giving your time… you'll be surprised how rewarding it will be. Do what is asked of you by HIM. It's not about what you can pay for, its about what you can pray for!
What other Artists/Bands influence you?
As kiddos we had a lot of country and rock influences like Reba McEntire, Martina McBride, Shania Twain, Alan Jackson, Foreigner, Van Halen, AC/DC… but our love for different genres became broader as we discovered more music. Talk about all over the map…from country legends Dolly Parton, Patsy Cline, and Johnny Cash and Bluegrass folk like Rhonda Vincent and Tony Rice, to Gospel royalty The Winans and Kirk Franklin and of course Pop/R&B singers, i.e. Whitney Houston and Michael Jackson.
What Artists/Bands do you compare yourself to?
-Others tell us we are like Miley Cyrus and Ty Herndon by looks and vocals… but compared to Thompson Square as a duo most often!