Due to audience demand, Florida Studio Theatre (FST) announces the extension of its Summer Mainstage production, The Cottage by Sandy Rustin, a fast-paced comedy of manners inspired by Noël Coward and Oscar Wilde. Called "Wickedly delicious" and "A comic gem" by Talkin' Broadway, The Cottage is a witty romantic comedy that explores relationships, truth, and empowerment. The Cottage concludes FST's 29th Summer Mainstage Season and has been held over through August 24, 2019 in FST's Gompertz Theatre. Tickets range from $29-39 and are now on sale at floridastudiotheatre.org, or by calling (941) 366-9000.
Set in the English countryside in 1923, The Cottage centers on Sylvia Van Kipness, a rash romantic who telegrams her husband Clarke about her yearly rendezvous with her lover, Beau. Unbeknownst to Beau, Sylvia has also sent a telegram to his wife, Marjorie, about their annual tryst. When Clarke and Marjorie arrive at the cottage where Sylvia and Beau are staying, a surprising, humorous web of secrets begins to unravel. This rollicking romantic comedy questions the meanings of love, fate, and marriage.
Playwright Sandy Rustin was inspired to write The Cottage because she loves period comedies, such as Oscar Wilde's The Importance of Being Earnest, and she wanted to pay homage to the plays she admired. "What I love the most about The Cottage are the surprises, the thwarted expectations that exist where you as an audience member are expecting one thing to happen," shared playwright Sandy Rustin. "And the comedy emerges when it doesn't happen."
Audiences are praising The Cottage, calling it "Absolutely delightful," "A must see," "Uplifting," and "Flawless." Critics agree, calling it an "Explosive comedy" with lots of "Surprises in store" (Sarasota Magazine). Total Theater adds that "You can't resist laughing."
Performing in FST's regional premiere production of The Cottage are Greg Balla (Beau), Drew Hirshfield (Clarke), Tracie Lane (Marjorie), Casey Predovic (Richard), Hanley Smith (Sylvia), and Anna Stefanic (Dierdre).
Smith is no stranger to The Cottage—she played Dierdre in the world premiere production at the Astoria Performing Arts Center in 2013. "I love this play, with all its humor and heart, and to explore it through a new lens [as Sylvia] has been a privilege," said Smith.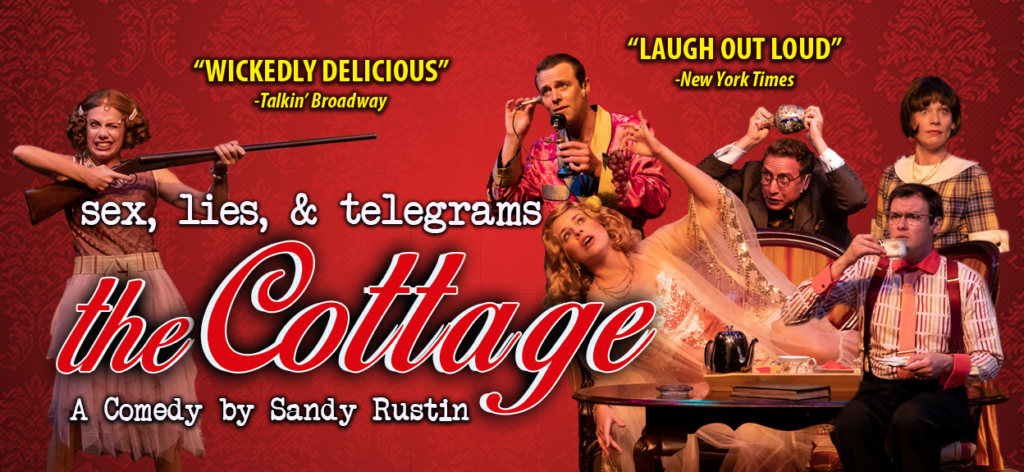 Now extended through August 24 in FST's Gompertz Theatre, The Cottage is a sexy comedy full of surprises and intrigue that is pure entertainment. Tickets range from $29-39 and are now on sale at floridastudiotheatre.org, or by calling (941) 366-9000.
About Florida Studio Theatre
Known as Sarasota's Contemporary Theatre, Florida Studio Theatre was founded in 1973 by Artist Jon Spelman. Starting out as a small touring company, FST traveled to places such as migrant camps and prisons. The company eventually settled down into a permanent home, acquiring the former Woman's Club building – now renamed the Keating Theatre. In the years that followed, Florida Studio Theatre established itself as a major force in American Theatre, presenting contemporary theatre in its five theatre venues: the Keating Theatre, the Gompertz Theatre, the Goldstein Cabaret, the John C. Court Cabaret, and Bowne's Lab Theatre.