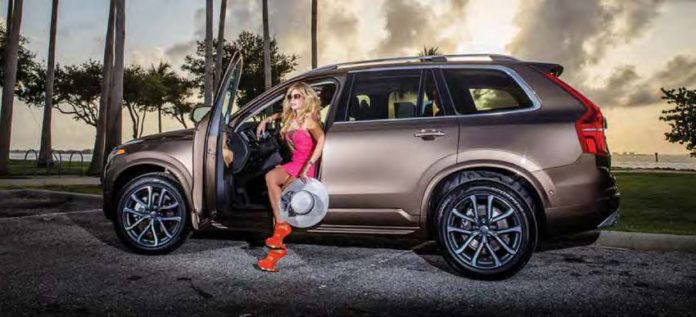 I WAS NOT READY FOR THE FABULOUS VOLVO XC90! I knew it was a new and updated SUV on the market by Volvo. I also knew that it would be filled with the latest electronics and safety. But, what truly surprised me was that it was an amazing vehicle to drive! They say that good design is a way of life in Sweden and this is emphatically true with the XC90. It just makes the driving experience easy and that is truly a luxury.
The new luxury crossover is delightfully different from many other SUV's on the market today. The engine roars to life with a turn of a knob rather than a push of a button. The infotainment entertainment system is more like a built in IPad that works by touch and swipe. Just about everything in the cabin is practical and handsomely appointed. The plush leather seats envelop you in a safe comfort that is pleasing to all senses.
The 360 degree camera is a tad strange at first- a bit like a drone flying overhead when you back up, however the safety aspect of seeing everything around the SUV is a major improvement in overall traffic and non-traffic incidents. I must admit–I am not a fan of the turn signal. So often you encounter someone who neglects to turn it off for miles, causing confusion and slow downs. The XC90 refused to let me go without with a vibration on the steering wheel. Habit corrected!
The technology in the XC90 is state of the art- the car can be set to monitor highway driving where if a car ahead of it comes to a sudden stop, the XC90 will also then brake slowly to avoid collision. That is truly amazing!
The interior has refreshingly clean styling, is super quiet and feels like a well-appointed hotel suite. The superb technology actually allows you to relax in the driver's seat which may be a harbinger of things to come. If the advancements in driving and safety get to a certain point, especially with Volvo-will we all be passengers? – Susan Short