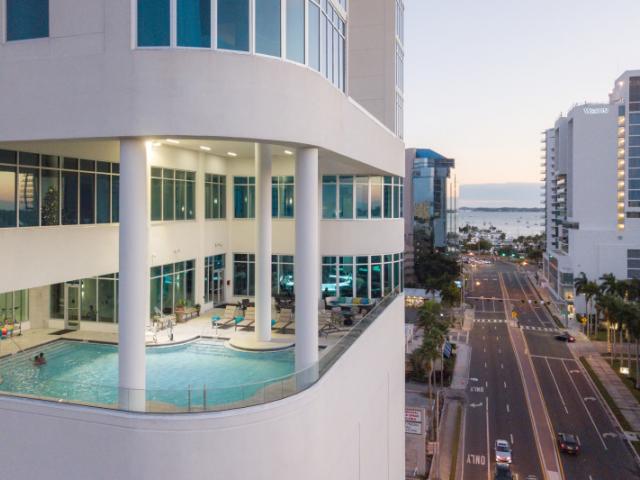 Ray Collins
Downtown Sarasota has certainly caught up in the hotel 'game.' Thousands of rooms added over the past decade. Some are too hard (or expensive), some are too soft (North Trail)—but there is one that is just right.
The Embassy Suites occupies a nice niche, looming large (18 stories) on the northern edge of downtown at 41 and Fruitville. Erin and I recently had a great 'stay-cation' there in a beautiful two-room suite on the 16th floor. Great view of downtown, the bayfront, the Ringling Causeway, Longboat Key and a bird's-eye view of the new Quay project going up across the street.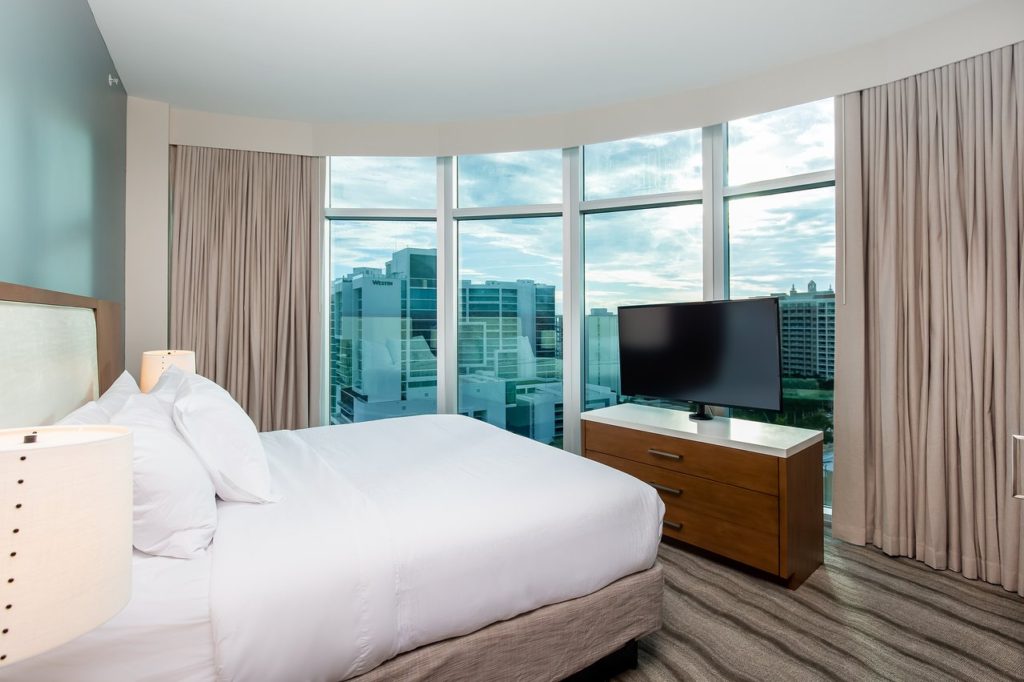 Embassy Suites has the requisite pool, work-out room and restaurant/bar. But just to sweeten the pot, management offers guests some great perks: Two free drinks in "Bridges Restaurant" during Happy Hour—and a free hot buffet breakfast in the morning!
"Bridges" is named after Developer Jim Bridges who has done a great job with this—and several other major projects in Sarasota. Jim is full of good ideas, and two of his better ideas in this project were bringing in experienced General Manager Nick Mavrikas, and rock star Chef Sol Shenker. Both these professionals bring this place to the next level:
Chef Sol has worked all over the country during his 30-year career, from Cape Cod to Colorado—and some people are coming to Embassy Suites just to experience his cuisine. Make no mistake, the restaurant is open to the public. You don't have to stay at the hotel, but it is a great place to stay.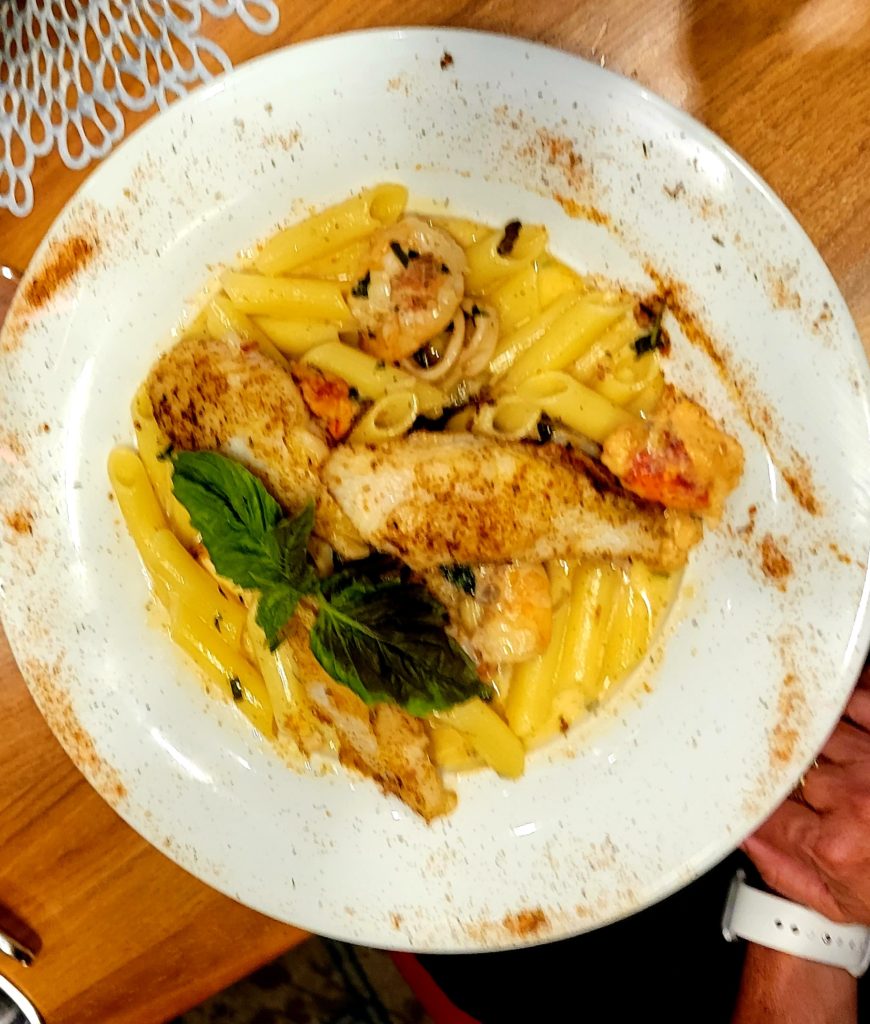 Erin and I both enjoyed a chopped salad which consisted of local organic iceberg lettuce topped with Chef Sol's homemade bleu cheese dressing, crispy applewood bacon-dried tomato and red onion.
For the main course, Erin had the Bruised Short-Ribs: Local black angus beef cooked "low and slow" for six hours, topped with Chef's 48 hour simmered demi-glaze. Mashed potatoes included Reggiano cheese, butter, cream and fresh herbs. She loved it.
I went with for a great surf-and-turf combination: Local black angus filet (12 ounce) seasoned with an array of fresh herbs cooked medium rare. It was paired with fresh Florida lobster meat soaked with flavors of white wine, fresh herbs and a hint of lemon. Wow!
We finished off our dinner with Chef's famous cheese-cake. Decadent!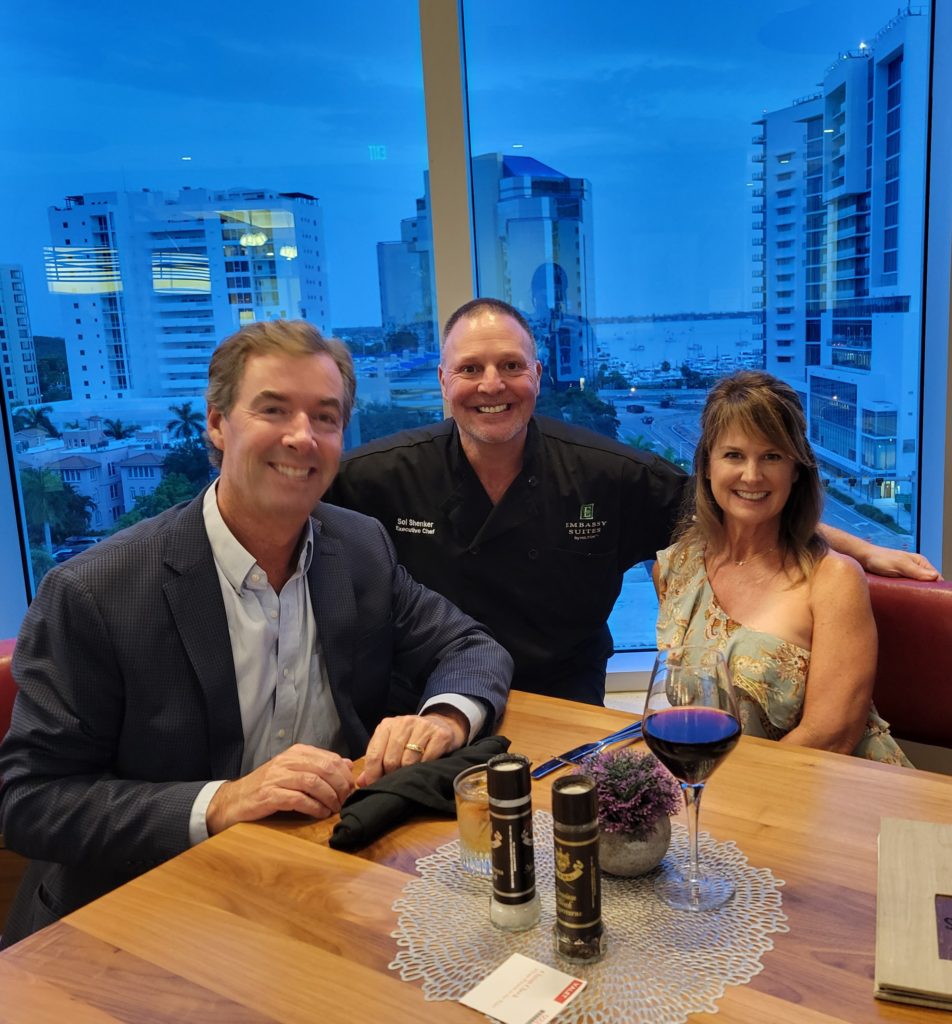 One on One with: Executive Chef Sol Shenker
When you think of the best chefs in the Sarasota area, there are a few predictable restaurants that usually get mentioned. But there is an unsung hero cooking for as many out-of-towners as local residents.
That's because Executive Chef Solomon Shenker is eight stories up at Bridges Restaurant in the Embassy Suites. This is a guy who loves his work—and it shows. He likes to come out and meet his guests, talk it up and it all began decades ago on Long Island.
Erin and I recently enjoyed a great staycation at Embassy Suites at the foot of Fruitville Road and had a chance to sit down with Chef Sol and find out how he got here:
Where are you from?
Great Neck, Long Island, NY.
How did you first get interested in cooking?
When I was 15. My mother was a great cook and she encouraged me to help in the kitchen. We had to feed a large family.
So then when was your first paying job in a kitchen?
It wasn't as a cook. I started off washing dishes and then moved up to help prep (meals).
Besides opening Bridge Restaurant in 2018, what was your previous career highlight?
My biggest executive chef job was for Valley Ski Resorts in Breckenridge, Colorado.
What famous people have you served?
Jim Belushi, Christopher Walken, Joan Rivers.
How did you wind up in Sarasota?
My parents moved to Siesta Key, and I eventually followed suit in 2000. It all began to happen for me in Sarasota when I opened the kitchen at Hotel Indigo in 2011.
Why do you like to cook?
I like seeing people light up when they eat my food, and it's a good creative outlet.
What do you most like to cook?
Cheesecake, deli and creating new seafood-based dishes.
What advice do you have for someone wanting to be a chef?
It's hard in the beginning and it's hard in the end, but if you have the thick skin to do it, keep at it.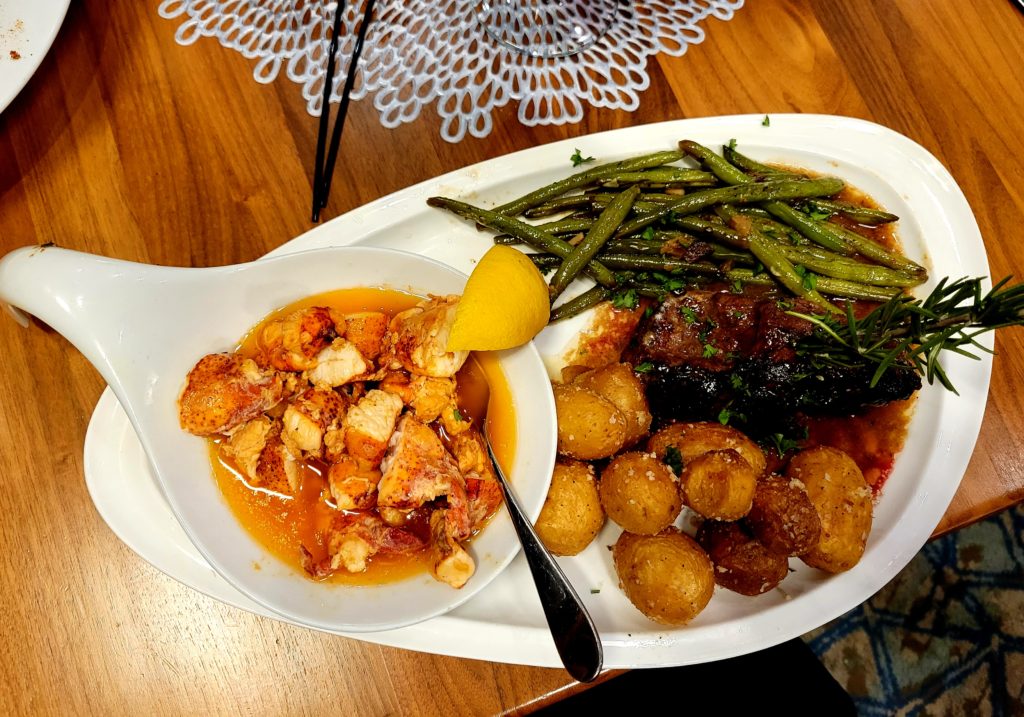 We walked off our huge meals strolling Main Street in downtown. It was Halloween weekend and the people watching was even better than usual. It's so nice to be able to walk out of our hotel and be in the thick of things within a few blocks. We saw plenty of friends, had a nightcap at Classico and felt decadent walking back to our perfect suite.
After a restful sleep, it was a treat to pull open the curtains and get a panoramic view of our beloved city. Watching the sun highlight the Sailor & Nurse statue, the bridge and the glistening intracoastal reminded us we were someplace special.
That morning breakfast at Bridges hit the spot. Some people ate inside the restaurant while others walked outside and ate on the pool deck. The restaurant level is about a third of the way up the 18-story building, so it provides a unique perspective on city life.
We're lucky to have a solid hotel—and restaurant—added to our choices in Sarasota. We recommend a weekend away at Embassy Suites at your next opportunity.
Ray Collins is a Sarasota-based travel writer, Realtor, video producer, media consultant, elected official and recovering TV news anchor. www.raycollinsmedia.com/articles