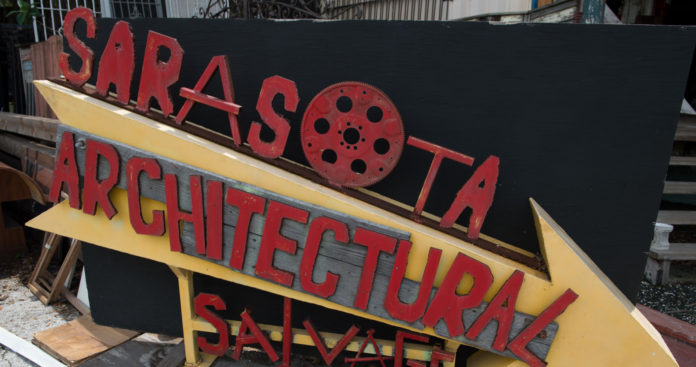 SALVAGE CHIC AND JESSE WHITE
FB: What is your background and what was the inspiration to open SAS?
JW" I am an environmentalist with a Master of Science in Environmental Resource Management from Antioch University and a BA in Environmental Studies from New College of Florida. My vision has been commercializing my environmental ideology – being an environmental steward and a profitable business. SAS has built on this this foundation, finding value where others waste, repurposing & upcycling, using recovered materials as a
base for meeting the design and quality standards of a modern world. I worked as a consultant for many years in the solid waste industry, and have always had a passion for history, architecture, and dumpster diving.
FB: Tell us briefly about the Salvage District?
JW: In 2003, there were just two stores in Sarasota working on keeping good materials out
of the Landfill – Used Stuff and SAS. Used Stuff is located on Central Avenue a bit to our
North, and focuses on the remodeler and renovator of modern and rental structures, and
has recently opened an antique/vintage mall within it's store. For a long time it was just us.
Then the DIY revolution hit HDTV, and the once difficult to explain process of reuse and
repurposing became household terminology. Now Central Avenue north of 10th street is
home to several Salvagers, many of whom got their start at SAS. The owners of Hearts Art
Wood Design and Circus City Architectural Salvage both learned the trade at SAS and have
located within 1 block of us. Together we all make up a Salvage District working to bring
creative reuse to Sarasota.
FB: The trend in decor is sustainable and artsy- how does this gel with your brands
philosophy?
JW: I am active in the Design community and regularly go to the trade shows in Atlanta,
Chicago, Dallas, and North Carolina. My fabrication team is creative and practical and work
hard to blend design and function. I believe that we can utilize recovered materials, which
by their very nature are sustainable, to build products that meet current design trends and
demands.
SAS recently expanded its internal woodworking and metalworking capacities with an off site workshop dedicated to custom and production fabrication. We're taking orders off the floor and building custom projects that are similar but meet our client's' specific needs.
We go a bit further and focus on quality and durability, which are also measures of sustainability – not only how something performs today but how it will hold up over time and into the future. Because so much of our product is hand-made, an artsy look is the signature of our pieces.
FB: You have such amazing items- what parts of the world do they hail from?
JW: I am constantly moving. I travel throughout the US and even abroad to seek out and procure items for the store. I work with dozens of importers who hand-pick one-of-a-kind items from around the globe. We also buy estates locally, and since the Sarasota population is so well traveled, we collect many items that have been in families for years, and eventually no longer fit the lifestyle of the original owner. These wild imported items exude individuality, creativity, and cultural diversity. We add these into our mix of locally procured, locally made, or locally salvaged items. So you might find something from Venice Fl or Venice Italy at SAS, all our products have stories and all my staff are well versed in any Provenance we have for an item.
FB: What advice can you give people who want to incorporate sustainable design in their homes or businesses?
JW: Sustainability is making choices with today's resources so that people of tomorrow have the opportunity to make similar choices. If there's one product that I'd like to see everyone incorporate into their projects, it's reclaimed wood. Nothing we salvage is really salvaged until someone buys it and makes it into something else – gives it that second life. That's where the magic is. Reuse, to me, is the most sustainable. For example, using barn wood to make panel walls is not only reuse of the barn wood, creating a market for salvage versus burning down old barns, but the wood itself could be salvaged again and made into something else at the end of its second life as interior paneling. Sustainability is a filter through which to sieve all your purchasing choices. Items can be more or less sustainable, and it's ok to have a blend of items in your design. The key is to build a project that you are happy with and will utilize for a long period of time. I like to think about rainforest woods. If you take a rainforest wood and build a table or veneer a door with it, and the end product has a 20-50-100 year life, then that is a much more sustainable use for the wood, than making something ephemeral, like a shipping pallet.
FB: What do you see as the future for the Salvage/Design district in Sarasota?
JW: I'd like to see us work in a much more coordinated way so that consumers realize how much is going on here and that it's a worthwhile trip. I have crazy ideas about building a map of all the stores and fabricators in the area, and maybe even having the City put up a sign designating the area. The main thing is for people to understand how much reuse resources are in the area, and make sure that people visit all the stores so they see the variety and different things we each offer.
For More Information:Sarasotasalvage.com
By Susan Short, Photo by Peter Lee