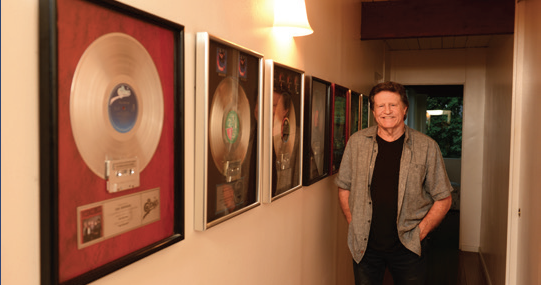 ON A RECENT AND FABULOUS TRIP to the City of Angels, we had the opportunity to spend some quality time with a music industry icon, Don Grierson. He may not be a household name, but his career is full of them. How does a song go from concept to market? Seeking to get the true grit from the real deal, Don Grierson is the man. We met with Don at his lovely home, high above Hollywood in the hills, and as we snaked through and above the canyon, I knew we were going to be in for a special treat. Passing above the famed Hollywood Bowl, I felt a special twinge of greatness about to unfold. Gracious and charming, Don welcomed a small crew into his home as we prepared for a photo shoot that exemplifies music history. As we passed through his hallway, we admired his walls; where more than just a few gold and platinum albums hung from his long and storied career. Their names are Stevie Ray Vaughan/Jimmie Vaughan, Bad English, Duran Duran, Heart, Power Station, Tina Turner, Living Colour, J. Geils Band, Kim Carnes and Luther Vandross. Oh, the stories those walls could tell…
We sat on his deck, as the day faded into sunset casting amber tones of light through the trees. Don relaxed and shared some stories and moments, worthy of an epic novel. "My most memorable, to just mention a few is hard, however the top musical acts as a promotion man– a long time ago are The Beatles, Bob Seger and Steve Miller. As an A&R Executive, Tina Turner, Heart, J. Geils Band, Cheap Trick, Celine Dion and Cyndi Lauper." These names are mind bogglingeach musical act more amazing than the last. I had to ask- how did his career begin? As in many stories, the beginning was humble.
Don was born in England, and his family immigrated to Australia when he was a child. They lived in a very small town, and he developed a keen interest in music. One might say even a huge super fan. He worked his way into the local radio station, where he became a DJ as well as Music Director. In those days, it was not difficult to emigrate to the U.S. and he bought a one-way ticket to L.A. with not much funds. He landed in a record store and worked his way up the ladder catching a few breaks along the way. Through one of his customers at the record store- he caught a big break and started as a promotions manager for a local record distributor, and then was hired as West Coast Promotion Manager at Capitol Records. He received the only "Golden Apple" award from none other than The Beatles!
He later became International Manager for Capitol, traveling overseas, doing promotion as well international A&R. Following those two years, he was promoted to Director, Merchandising and Advertising. Two years later Capitol created a sister label, Emiamerica records and promoted Don to be its VP, A&R. At Emiamerica, he signed and worked with such great artists Sheena Easton, Kim Carnes, Sir Cliff Richard, J. Geils Band and Kenny Rogers. Four years on, he has promoted back to capitol as VP, head of A&R, signing and working with major acts such as Heart, Tina Turner, Joe Cocker, Bob Seger, Megadeth, Steve Vai, Duran Duran, Billy Squier and more.
His career then led him to move to New York to become SNR VP of A&R at Sony/Epic Records where he signed and worked with artists like Celine Dion, Cheap Trick, Gloria Estafan, Cindi Lauper, The Jacksons and Living Colour. A cool anecdote–he had to really push Cheap Trick to agree to record the song "The Flame". They were not all in agreement but Don really smelled that as a breakout song and it turned out to be the # 1 hit that reactivated their career! When asked how the industry has changed and evolved, Don responded, "There will always be a market for music. People will always have music in their lives, in some form. It has been that way since the beginning of time. The challenge, from an industry point of view, is always to identify artists that can connect with an audience".
As a frequent fixture at the famed Musicians Institute in Hollywood, where he is now an instructor, there is always a discussion of the topic of the ebb and flow of music and the formats that change at lightening speeds. "There will always be a 'music industry', although it will continue to go through changes, as it has in the past, vinyl, cassette, CD, now streaming and YouTube viewing etc. The explosion of technology and the way music is made available to the consumer will continue to evolve. The music industry does not create these changes but has to adapt as they develop", Don went on to say. He feels and understands that the industry's biggest challenge is the financial aspect. Today, people can listen (streaming) and view (YouTube etc.) without having to pay. The big upside for an artist though, is when they can perform live. Touring, merchandising, branding and aftermarket merchandise is where the big money is, not from the "sale" of music. And so, the beat goes on. Times will change and those who endure will be resilient, adaptable; which is what Don Grierson truly exemplifies. His storied and long career in the music industry is just that – diverse, ever changing and always on the edge of something amazing! –Susan Short