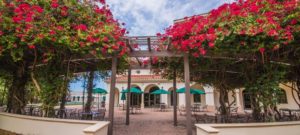 USFSM is celebrating a big milestone and has come a long way. This year, Brunch will celebrate its Silver Anniversary. Since the start, the event has awarded more than 1,700 scholarships totaling in excess of $1 million and created a Brunch scholarship endowment totaling $1.3 million.
But before the event debuted 25 years ago, organizers were not as concerned about raising funds as they were about spotlighting USFSM.
Back then – before the campus building was constructed – USF Sarasota-Manatee was virtually invisible. Classes were held in borrowed space at New College of Florida. Raising scholarship money remained a primary goal of organizers, but the chief aim of Brunch was to raise awareness of the tiny campus.
"Classes were at night for the most part, and there was no signage. There was nothing to say we were here, so there was no recognition of USFSM," said retired accountant Charles Baumann, who chaired the first Brunch on the Bay organizing committee. "Nobody knew us."
Reporters were oblivious to the campus and turned elsewhere when seeking academic experts to weigh in on newsworthy topics. A consultant conducting a feasibility study advised against any kind of large-scale fundraiser.
"He said nobody knows USFSM; don't do it," said Baumann, a USF alum.
Organizers heeded the consultant's advice at first. Then they started thinking of ways to draw attention to the small campus. They hit on a sophisticated outdoor brunch with numerous restaurants and caterers, instead of a black-tie evening affair, and opted for early November before the social season shifted into high gear.
"Brunch wasn't meant for just the black-tie crowd," Baumann said. "It was meant for everybody, and we chose late morning so people could go after church. It really is an event where you can just come and enjoy yourself and see all your friends. Along the way, we raise money for scholarships."
The strategy worked, with the first Brunch attracting hundreds of attendees. The event has grown ever since. "There really is nothing else like it in Sarasota and Manatee," Baumann said. "That's why it's been around for so long."
But while the social side of Brunch is what attracts so many guests, the fundraising side remains front and center with reminders of how Brunch has changed lives and helped scholarship recipients complete their degree. Among those helped was Francisco Loera, an elementary education major who graduated last spring. Loera chose USFSM because of its proximity to home and small class sizes.
As he neared the end of his studies, he was offered a four-month internship. A great opportunity, Loera and his wife nevertheless worried whether it was worth giving up his managerial job at a local retailer that paid the bills. In the end, the Brunch scholarship made all the difference, enabling Loera to accept the internship. Now the Class of 2018 graduate has his "dream job" as a fifth-grade teacher at Palmetto Elementary School.
"I wasn't sure about finances and going into a full-time four-month program, but the Brunch on the Bay scholarship really provided a foundation for us," he said.
Loera is among dozens of students helped yearly through Brunch scholarships. Funds raised provide support for tuition, books, living expenses and other necessities. Also, many scholarship recipients come from the area and work here after graduation – meaning the scholarships resulting from Brunch benefit not only local students but local communities as well.
A Brunch scholarship helped Dat Vu earn degrees in accounting and finance. At his 2013 graduation, Vu received the Outstanding Graduate Award for excellence in academics and student life. He completed an MBA in fall 2016 and was hired as a staff accountant at Palmetto-based Feld Entertainment five years ago. He's since been promoted to senior accountant.
"What makes Brunch on the Bay so unique is that it brings together diverse members of the community where the goal is to give back, and with the support of people who come to the event, undergraduate students like me can have the ability to fulfill their academic dreams and have doors opened for opportunities that last a lifetime," Vu said.
Like many USFSM students, Jami Worley started college at another institution, then transferred to USFSM. She graduated in 2011 with a psychology degree focusing on psychology and law. Eventually, she graduated from law school and founded Worley Elder Law, a Bradenton firm specializing in estate planning and elder law needs.
"Having financial support from scholarships removes this level of stress where you have to worry about whether you need to get a part-time job, how you're going to balance work and school," Worley said.
"USFSM is an amazing school," she said. "You'll be challenged academically and given multiple opportunities to be involved in the campus and in the community. If you put in the work, you'll graduate as a better person who's ready to tackle the future."
Brunch on the Bay's importance can't be overstated, Baumann said.
"The financial support provided by individuals and businesses at Brunch changes lives and builds up our community," he said. "When people donate to student scholarships, sometimes that's just enough to push students over the edge to complete their degrees. Sometimes, just a little support makes a big difference in a student's ability to even go to college, earn a degree and then make a difference in our community."