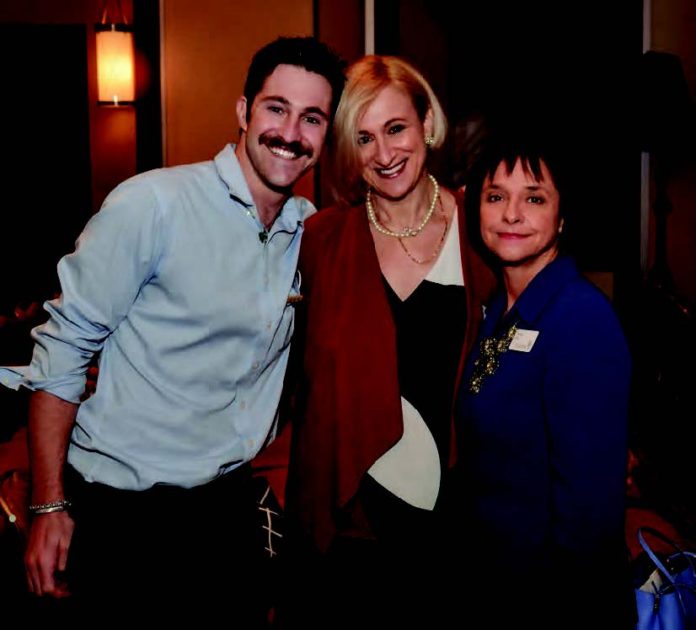 On a Sunday morning in the early 1990's I dropped my daughter off at Sunday School in Sarasota and I noticed a striking woman standing alone. She had that air of confidence and style about her that compels one to want to know her. I introduced myself and was immediately taken with her lovely English accent, which admittedly I am obsessed with — and her shoes!
Hailing from London, Emma grew up with two older brothers in a successful family that was driven by a strict work ethic and philanthropy. Having inherited both traits, she would soon find her way to the Big Apple. Her plan to continue her post-graduate studies in architecture was sidetracked and she began working at Metropolis Magazine. Not long after, she was lured by the start-up satirical Sky Magazine where she worked in advertising.
A chance encounter with her neighbor what as in the entertainment industry changed her life. While sharing a cab ride, he persuaded her to ditch the paralegal interview she was headed to and apply for the newly available position as assistant to entertainment attorney to the stars, Jay Julian. She was hired on the spot.
In the years that followed, marriage, a new home, a baby on the way and a life changing decision had her relocating to the suburbs of New York City. Emma was accepted to law school and left the entertainment firm to embark on here new career. Another baby boy arrived 14 months later. After 4 years of working part time and going to school at night, Emma received her law degree and license. She loved the law and joined a couple of Westchester firms where she honed her skills on several high profile cases.
While visiting her parents at their Florida vacation home, they found Sarasota to be enticing and they made the move in 1994. With an expertise in family law she joined the Manatee County Department of Children and Family Services (HRS).
Following in the footsteps of her parents, albeit hers in her signature high heels, Emma inherited their passion for giving back to the community. Among her many ventures, she volunteer at the Manatee County Teen Court program, which then lead to her helping to develop the Sarasota Teen Court nonprofit program where she served as President. She is the Grant Committee Chair for the National Board of the American Friends of Hebrew University and if that wasn't enough, she is the current co-president of Temple Beth Shalom in Sarasota.
Whether it's an invitation to experience her impressive culinary skills at one of her exquisite dinner parties or making herself accessible to those in need, it is truly a deep respect for family values which remain the motivation at the very core of everything she does. I am proud to have this real life Superwoman in my life who is a role model and an inspiration to so many, proving that you can indeed have it all! You can hear the clicking of her heels down the Sarasota streets as she walks her beloved Corgis! I'm working on the finishing touches to a red cape.
For more information on Sarasota Teen Court visit the website @www.sarasotacort.org
by Sheri Nadelman